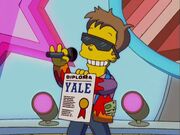 Privileged Boy is a song that Homer writes for Cameron (who at the time was under his new alter ego "Johnny Rainbow") in order to sabotage his chances of winning the Li'l Starmaker in the finals in the episode "A Star is Torn". The music was written by Alf Clausen and the lyrics by Carolyn Omine. It is part of the twenty-eighth track on the album The Simpsons: Testify.
Lyrics
Homer:
Look, Cameron's about to sing the song I wrote for him! (chuckles) He's about to learn the most important lesson in the music business: Don't trust people in the music business.
Cameron:
I'm a privileged boy,
It's great, I gotta tell ya!
Privileged boy,
My dad can buy and sell ya!
It really doesn't matter
That you're on the list in front of me
I'm gonna get your table,
Cuz I always tip the maitre d'
And then I'll go to Yale
Because I am a legacy!
I'm better than you!
(audience boos)
Carl:
You suck, Johnny Rainbow!
I believed in you!
Krusty:
Cameron's officially disqualified for offensing the crowd with secret revealery language!
Community content is available under
CC-BY-SA
unless otherwise noted.