Doctor Strange in The Multiverse o Madness - The Loop
Play Sound
"Homer, did you hear that? She called me handsome! Me! It's like I've gone to heaven. Wait a minute... I died on the operating table didn't I?"
―Moe
Pygmoelian is the sixteenth episode of Season 11.
Synopsis
After winning the chance for his photo to appear on a Duff beer calendar, but losing out when the calendar appears with stickers covering his face, Moe gets a facelift. The resulting surgery makes him handsome and then Moe takes revenge on those who wronged him because of his looks in the past, including the producer of a soap opera. Of course his new looks get him the part, until he and Homer become privy to some plot lines that threaten to write him out of the show. In anticipation, they decide to go out "in a blaze of sour grapes".
Full Story
After winning a bartending contest, Moe is shunned by the Duff brewing company when his picture on their calendar has stickers over his face. After peeling away all the stickers, Moe is shocked to see how ugly he is (especially when Carl compares Moe's ugliness to Lenny's stupidity, Barney's drunkenness and Homer's laziness, baldness and weight). Moe gets a facelift, becoming very handsome, and sets out to do all the things he never could, including almost getting a date from a girl he liked in high school, and being surrounded by beautiful women (and Selma). He then tries out for a role on Soap Opera It Never Ends, who had turned him down years ago for being 'ugly-ugly'. Now with his leading man looks, he is offered the role of leading man Dr. Tad Winslow.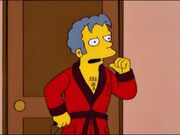 After misinterpreting a plot line, Moe thinks his character is being killed off. He sneaks Homer on to the set to make a guest appearance as an angel from the future, and gives away a year of the soap's story lines. The irate producer comes in and explains that Tad Winslow was only going to be killed off in a dream sequence. Moe is fired and ends up having a piece of the set fall on his face, instantly undoing the effects of the facelift and returning to him the ugly, old face we have all grown to cringe at. At the end Moe is back in the bar with Homer, wondering why his face went back to his old one. Sometimes, they conclude, things are best left unknown.
Citations