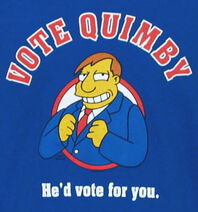 Quimby Campaign Commercial is the jingle supporting Mayor Quimby's reelection in the episode "Sideshow Bob Roberts". The music was written by Alf Clausen and the lyrics by Bill Oakley and Josh Weinstein. It is the eighteenth track on the album Go Simpsonic with The Simpsons.
Listen
Lyrics
Singers:
Without a Mayor Quimby, our town would really stink.
We wouldn't have a tire yard or a mid-sized roller rink.
Women:
We wouldn't have our gallows, or our shiny Bigfoot trap.
Men:
It's not the mayor's fault...
Singers:
That the stadium collapsed!
Announcer 1:
Quimby: If you were running for mayor, he'd vote for you.
Announcer 2:
Paid for by the Mayor Quimby for Mayor Mayoral Committee.
Community content is available under
CC-BY-SA
unless otherwise noted.