Jurassic World: Dominion Dominates Fandom Wikis - The Loop
Play Sound
This article is about the episode. For other pages, see Radioactive Man (disambiguation).
"Anyway, uh, Hollywood Studio has decided to film the Radioactive Man movie here in Springfield."
"My eyes! The goggles do nothing!"
"Radioactive Man" is the second episode of Season 7 (originally was going to be for Season 6 in production order).
Synopsis
A movie based on comic book character Radioactive Man is filmed in Springfield. Much to Bart's chagrin, the coveted part of the hero's sidekick, Fallout Boy, goes to not him, but to his best friend Milhouse.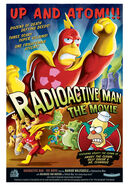 Full Story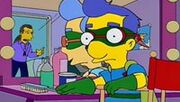 Bart and Milhouse are thrilled to hear that a film version of their favorite comic book, Radioactive Man, is coming soon. Rainier Wolfcastle, the star of the McBain films, is chosen to play Radioactive Man, and even more excitingly for the Springfield Elementary School children, the production moves to their town after seeing a small poorly spelled advertisement in Variety Magazine. A search is launched for a young actor to play Radioactive Man's sidekick Fallout Boy, and Bart auditions. Bart does well, but is rejected because he is an inch too short. Bart leaves and acquires platform shoes and a vertical stripe suit (among other attempts to look taller), but by this point, Milhouse has already taken the part, albeit reluctantly, and his parents forced Milhouse to be an actor. Kirk and Luann immediately begin purchasing expensive objects when Milhouse becomes an actor.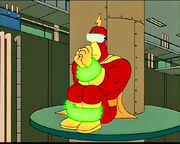 Bart is told by Lisa that he is still needed as a star's friend and confidant, and Bart eagerly accepts this new role. However, Milhouse finds his own job intolerable and disappears during the filming of the most expensive scene in the movie. The film is suspended while the townspeople search for Milhouse. Eventually, Bart finds him in the treehouse. Bart tells Milhouse that he will be a hero, but Milhouse retorts that the real heroes are the people fighting heart disease and global hunger.
Bart scoffs at this, saying that those 'pitiful loser' real heroes aren't winning their fights, and to find heroes that actually accomplish something, you have to turn to show business. Despite this and encouragement from former child star Mickey Rooney, Milhouse gives up on his acting career. Mickey tried to take over as the new Fallout Boy, but all production on the film is aborted, with the project going bankrupt thanks to price gouging and other unscrupulous conduct by the people of Springfield (i.e. Mayor Quimby inventing new taxes on the fly to take every red cent they have). Due to the town's misbehavior, the film would never come into fruition. Mickey scolds them for doing this. However, Mayor Quimby and the others refuse to give the money back. The directors then return to Hollywood, "where people treat each other right."
Behind the Laughter
Production
The episode was written by John Swartzwelder, and directed by Susie Dietter. Dietter was not a comic book fan, so she got most of her inspiration for the episode from Batman: The Animated Series.
"Radioactive Man" is the first episode of The Simpsons to be digitally colored. The task went to USAnimation, who would later animate "The Simpsons 138th Episode Spectacular". Digital coloring would not be attempted again until Season 12's "Tennis the Menace", and again when the show permanently switched to digital coloring in Season 14 since "The Great Louse Detective".
Reception
The episode finished 51st in the ratings. It acquired a Nielsen rating of 9.5. It received positive reviews from critics. The authors of I Can't Believe It's a Bigger and Better Updated Unofficial Simpsons Guide said it reminded them of Tim Burton's "Batman" films, and that Milhouse was the perfect choice to play Fallout Boy.
Citations