m

(28 intermediate revisions by 4 users not shown)
Line 1:
Line 1:
 

{{Character

 

{{Character

−

|image=[[File:Rex.gif|200px]]

+

|image=[[File:.|]]

 

|name=Rex Banner

 

|name=Rex Banner

 

|sex ={{Male}}

 

|sex ={{Male}}

 

|status={{Alive}}

 

|status={{Alive}}

 

|hair=Brown

 

|hair=Brown

 
⚫
−

|age=43

 
 
⚫
⚫
 
⚫
 
 

|appearance="[[Homer vs. the Eighteenth Amendment]]"

 

|appearance="[[Homer vs. the Eighteenth Amendment]]"

 

|voiced by=[[Dave Thomas]]

 

|voiced by=[[Dave Thomas]]

 

}}

 

}}

 
+

{{Quote|Are you the Beer Baron?|[[Homer vs. the Eighteenth Amendment]]}}

 
 
 
+

'''Rex Banner''' is the main antagonist in the episode [[Homer vs. the Eighteenth Amendment]]. He is a U.S. Treasury officer in Washington, D.C. who was briefly sent to Springfield to uphold Prohibition in Springfield after [[Bart]] got drunk in a live news report, which incited several women to force the city government to declare Prohibition.

⚫
 
 
 
 
+

== History ==

−

'''Rex Banner''' is a U.S. Treasury officer in Washington, D.C. who was briefly sent to Springfield to uphold Prohibition in Springfield after [[Bart]] got drunk in a live news report, which incited several women to force the city government to declare Prohibition. He replaced [[Clancy Wiggum]] as Chief of Police and made a main objective to capturing the "Beer Baron", a rum-runner who was actually [[Homer]]. He also tried interrogating people in regards to who is supplying rum on the side, but his choice of words for his interrogation (Listen, rummy, I'm gonna say it plain and simple. Where'd you pinch the hooch? Is some blind tiger jerking suds on the side?) left one of his interrogatees, [[Barney Gumble]], confused and could only reply with an unsure "Yes?". Also, despite being more competent than Wiggum, Banner seems to be somewhat corrupt, as he doesn't even mind [[Fat Tony]] smuggling heroin after refusing to take any bribes to let Fat Tony smuggle alcohol to Springfield. When Homer was finally turned in by Wiggum, Rex was fired, both from his job as chief, and from the main mechanism of punishment for breaking the ancient prohibition law: catapult. <ref>[[Homer vs. the Eighteenth Amendment]]</ref>

+

He replaced [[Clancy Wiggum]] as Chief of Police and made a main objective to capturing the "Beer Baron", a rum-runner who was actually [[Homer]]. He also tried interrogating people in regards to who is supplying rum on the side, but his choice of words for his interrogation (Listen, rummy, I'm gonna say it plain and simple. Where'd you pinch the hooch? Is some blind tiger jerking suds on the side?) left one of his interrogatees, [[Barney Gumble]], confused and could only reply with an unsure "Yes?". Also, despite being more competent than Wiggum, Banner seems to be somewhat corrupt, as he [[Fat Tony]] heroin after refusing to take any bribes to smuggle alcohol to Springfield. When Homer was finally turned in by Wiggum, Rex was fired, both from his job as chief, and from the main mechanism of punishment for breaking the ancient prohibition law: catapult. <ref>[[Homer vs. the Eighteenth Amendment]]</ref>

 
 
 
+

Though a very clean cut, non-nonsense officer, he did not seem to be any more effective then Wiggum as police chief beyond his being more ruthless in ensuring probation was enforced. Banner was never able to identify Homer as the "Beer Baron," even with overwhelming evidence and Homer's general sloppiness in covering his own tracks.

−

==Deceased?==

 
 
+
−

Despite the fact he was catapulted out of town, he was seen during ''[[Trappuccino]]'', as part of the angry mob that seeks to kill Homer.<ref>''[[The Simpsons Movie]]''</ref> He has also made an appearance in The Simpsons: Tapped Out.

 
 
+

[[File:Rex-banner-banana-kaboom_Tapped_Out.png|thumb|Tapped Out]]

 
 
 

==Behind the Laughter==

 

==Behind the Laughter==

−

Rex Banner was based on Eliot Ness, the Treasury agent who led the famous Prohibition-enforcement team "The Untouchables". His voice is based on Robert Stack's portrayal of Ness in the ''Untouchables'' TV series. His appearance is based on Kevin Costner's portrayal of Ness in the ''Untouchables'' film.

+

Rex Banner was based on Eliot Ness, the Treasury agent who led the famous Prohibition-enforcement team "The Untouchables". His voice is based on Robert Stack's portrayal of Ness in the ''Untouchables'' TV series. His appearance is based on Kevin Costner's portrayal of Ness in the ''Untouchables'' film.

 
 
 

== Appearances ==

 

== Appearances ==

 

*{{Ep|Homer vs. the Eighteenth Amendment}}

 

*{{Ep|Homer vs. the Eighteenth Amendment}}

−

*{{Template:Mov|(Cameo)}}

+

*{{Mov|(Cameo)}}

 

*{{Game|The Simpsons: Tapped Out}} 

 

*{{Game|The Simpsons: Tapped Out}} 

 
+
 
⚫
 
 
 

== Citations ==

 

== Citations ==

 

{{Reflist}}

 

{{Reflist}}

 
+
⚫
 
 
⚫
−

{{TSTO}}

 
 
+

[[ru:Рекс Баннер]]

⚫
 
⚫
 
⚫
 
 

[[Category:Characters]]

 

[[Category:Characters]]

 
+

[[Category:Male characters]]

 
+

[[Category:Alive characters]]

 
+

[[Category:Season 8 appearances]]

 

[[Category:Characters voiced by Dave Thomas]]

 

[[Category:Characters voiced by Dave Thomas]]

 

[[Category:Characters voiced by guest stars]]

 

[[Category:Characters voiced by guest stars]]

 
+

[[Category:Recurring characters]]

 
⚫
 
⚫
 
⚫
 

[[Category:Villains]]

 

[[Category:Villains]]

 

[[Category:Tapped Out Characters]]

 

[[Category:Tapped Out Characters]]

−

[[Category:Possibly Deceased Characters]]

+

[[Category: ]]

 

[[Category:Homer's enemies]]

 

[[Category:Homer's enemies]]

 
+

[[Category:Parodies]]

 
+

[[Category:Laymen]]

 
+

[[Category:Brown haired Characters]]
---
Revision as of 14:28, 9 August 2019
"Are you the Beer Baron?"
Rex Banner is the main antagonist in the episode Homer vs. the Eighteenth Amendment. He is a U.S. Treasury officer in Washington, D.C. who was briefly sent to Springfield to uphold Prohibition in Springfield after Bart got drunk in a live news report, which incited several women to force the city government to declare Prohibition.
History
He replaced Clancy Wiggum as Chief of Police and made a main objective to capturing the "Beer Baron", a rum-runner who was actually Homer. He also tried interrogating people in regards to who is supplying rum on the side, but his choice of words for his interrogation (Listen, rummy, I'm gonna say it plain and simple. Where'd you pinch the hooch? Is some blind tiger jerking suds on the side?) left one of his interrogatees, Barney Gumble, confused and could only reply with an unsure "Yes?". Also, despite being more competent than Wiggum, Banner seems to be somewhat corrupt, as he allowed Fat Tony to smuggle heroin after refusing to take any bribes to smuggle alcohol to Springfield. When Homer was finally turned in by Wiggum, Rex was fired, both from his job as chief, and from the main mechanism of punishment for breaking the ancient prohibition law: catapult. [1] Despite this, he apparently survived, as he later participated in the mob against Homer Simpson.[2]
Though a very clean cut, non-nonsense officer, he did not seem to be any more effective then Wiggum as police chief beyond his being more ruthless in ensuring probation was enforced. Banner was never able to identify Homer as the "Beer Baron," even with overwhelming evidence and Homer's general sloppiness in covering his own tracks.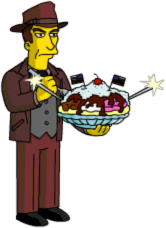 Behind the Laughter
Rex Banner was based on Eliot Ness, the Treasury agent who led the famous Prohibition-enforcement team "The Untouchables". His voice is based on Robert Stack's portrayal of Ness in the Untouchables TV series. His appearance is based on Kevin Costner's portrayal of Ness in the Untouchables film.
Appearances
Citations
Community content is available under
CC-BY-SA
unless otherwise noted.