Wiki Targeted (Entertainment)
Play Sound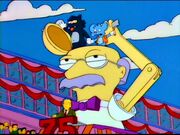 Roger Meyers, Sr. is the founder of Itchy & Scratchy Studios, which produces The Itchy & Scratchy Show. His son, Roger Meyers, Jr. took over the company upon his death. His family name has been spelled as both "Meyers" and "Myers" - sometimes in the same episode.[1]
Meyers' first full cartoon was "Steamboat Itchy" in 1928. He was later criticized for his film Nazi Supermen Are Our Superiors (a reference to Walt Disney's supposed false anti-Semitism) and he also made musical films like Scratchtasia (a clear parody of Fantasia) and Pinitchio (Pinocchio). Sometime before his death, he created Itchy and Scratchy Land, a theme park to celebrate his characters.
In "The Day the Violence Died", it was revealed that Meyers had not invented Itchy and had instead stolen the character from Chester Lampwick. In fact, Meyers stole almost every character he ever used since he apparently couldn't draw anything but simple stick figures.
Behind the laughter
Meyers is based on Walt Disney.
When Itchy & Scratchy Studios goes bankrupt and Roger Meyers, Jr. is forced to stay in a motel, he shows Bart and Lisa the cooler in which he has to keep his father's frozen head.[2] This is a reference to an urban legend that Walt Disney was cryonically frozen after his death.[3]
Appearances
Citations