Ron Taylor (October 16, 1952 - January 16, 2002) was an American actor. He voiced the late Bleeding Gums Murphy in "Moaning Lisa" and "'Round Springfield". Taylor is also known for being the original voice of the man-eating plant, Audrey II, in the 1982 play of Little Shop of Horrors. Taylor's other roles included guest spots in NYPD Blue, Twin Peaks, City of Angels and Star Trek: Deep Space Nine.He died in 2002 aged 49 from a heart attack. The episode "Sweets and Sour Marge" was dedicated to him.
Behind the Laughter
Taylor was the first ever guest star to appear on "The Simpsons". (In air date order.)
Appearances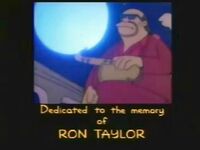 External links
Community content is available under
CC-BY-SA
unless otherwise noted.