| | |
| --- | --- |
| | It has been suggested that this article be split into multiple articles (with a disambiguation page in case of confusion). (Discuss) |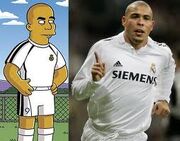 Ronaldo
is a Brazilian association football player. He appeared as himself in the episode "
Marge Gamer
".
Homer Simpson
knows a lot about him.
Ronaldo was born on the September 18, 1976 in Rio de Janeiro. He holds a record for the all-time World Cup Goalscorer - 15 Goals in 19 games in 3 Fifa World Cups. He is currently retired. His last team was the Brazilian club Corinthians, where he wore the #9 shirt. He has previously played for Cruzeiro, PSV Einhoven, F.C. Barcelona, Inter Milan, Real Madrid and AC Milan.
Apperances
Marge Gamer