Santa's Village is a Christmas-themed amusement park in Springfield. Despite that, the park is open all year. Santa's Village boast real-life reindeer as its main attraction (although they are often sleeping in the day uncomfortably due to not being able to thrive in Springfield's environment). Ironically, it is closed on Christmas.
The Estonian Dwarf works as an elf at the park.[1]
Bart once drove a car through the theme park during his stint as Mr. Burns' heir.
Homer, Moe, and Barney once broke into Santa's Village in a desperate attempt to hunt for deer to have Bart "become a man" and avoid becoming gay from John's influence due to not finding any deer due to them migrating north when the state park got turned into an Astroturf. However, this ended up endangering everyone due to the Reindeer being especially vicious, with John saving the day with a robotic Santa (as they were fearful of him).
Homer once sent Marge and the kids to Santa's village to get them out of the house for long enough to have the Gentlemen's Relief Production crew film Lemony Lick-It's A Series of Horny Events use their house for a portion of the scene in order to sufficiently pay back the mob for the winnings he lost in a football game due to a scam. The family did not have a good experience, as Santa was downtrodden instead of jolly due to receiving bad medical news, an obvious Frosty actor losing his hat (and presumably ending up fired for losing the hat by his supervisor, Mr. Roselli), Lisa getting a rash from being licked by one of the sickly reindeer, and Santa apparently succumbing to his "bad medical news" and being taken to the Hospital's morgue, causing them to leave early (with Marge stating that it was her early Christmas present for the family), and witness the snuggle film still being in production, causing Marge to leave in a storm, as well as, in rage, smashing Homer's back fender while shouting her goodbyes to the kids.
Appearances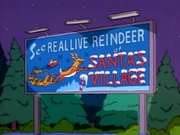 | | |
| --- | --- |
| | This article relating to a Simpsons location is a stub. You can help Simpsons Wiki by embiggening it. |
Citations
Community content is available under
CC-BY-SA
unless otherwise noted.