"Clancy!"
―Sarah Wiggum
"Clancy! Use the remote!"
―Sarah Wiggum reacting after Chief Wiggum shoots the television
Sarah Wiggum (née Kanneke)[1] is the soft wife of Clancy and mother of Ralph.
She has a nasal-likely voice but her personality isn't very established beyond the fact that she seems to be a loyal wife to Chief Wiggum.
Criminal Record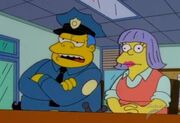 Clancy mentions she was more beautiful at that moment than the day he arrested her.[2] She giggles in reply. He then mentions he only planted the crystal meth on her so she would "notice" him. Sarah (according to Clancy) is his "home force". At one time, she immediately dials the authorities at Clancy's command as a reference to the old-fashioned operator who had the stereotypical name "Sarah."
Non-Canon Appearances
In "
The Simpsons Spin-Off Showcase
," where various supporting characters get spin-offs, one spin-off (Wiggum, P.I.) has Sarah's marriage to
Clancy
eventually dissolve and they get a divorce. He gets custody of
Ralph
and moves to New Orleans.
Future
At the end of "Flanders' Ladder", she is shown to be one of the many deceased wives of Ned Flanders.
Video Games
The Simpsons Game, when you talk to Sarah, all she says is 'Clancy' (referring to her husband). This includes when you attack her and when she runs away screaming. Chief Wiggum mentions her during the Duff Ultimate Eating Challenge saying that the food was so much better than her cooking.
In August 2018 Sarah was added as a Premium Character to Tapped Out in a bundle which also contains the Springfield Aquarium. She is one of the 'Alcoholic' characters as her tasks include the hour-task of attending AA Meetings with characters such as Bernice Hibbert and Barney. The Sarah Wiggum/Springfield Aquarium bundle reappeared during the Black Friday 2018 event as one of the prizes inside selected mystery crates.
Trivia
She tries out for Poochie's voice for The Itchy & Scratchy Show, but of course, she isn't heard.[3]
Clancy's pet name for her is "Poppin Fresh" based on the Pillsbury Doughboy.[4]
As hinted like Bernice, she may be an alcoholic, as hinted by Ralph: "You look like my mommy after her box of wine."
It is revealed that Marge Simpson does not like Sarah, because Marge doesn't trust her.[5]
In "The President Wore Pearls", she was shown with ginger hair.
Gallery
Appearances
Reference
Community content is available under
CC-BY-SA
unless otherwise noted.