Wiki Targeted (Entertainment)
Play Sound
"Clancy!"
―Sarah Wiggum
"Clancy! Use the remote!"
―Sarah Wiggum reacting after Chief Wiggum shoots the television
Sarah Wiggum (née Kanneke)[1] is the wife of Clancy and mother of Ralph.
She has a nasal-likely voice (Except for one Season 32 episode) but her true personality isn't very established beyond the fact that she's a loyal wife to Chief Wiggum and loving mother to Ralph Wiggum. She's a sweet, kind, relaxed, and easy going woman based on her cameos and lines, despite us not really seeing it much. We have witnessed Chief Wiggum having heart and love for others, for example him hugging Lou[2], as well as Homer and Marge[3]. This might give us a clue that Sarah is just as, if not more loving than Chief Wiggum can be to others at times. She has also been shown to have heart and feel bad for others, such as in the crowd at an event when something in the event is sad.
Marriage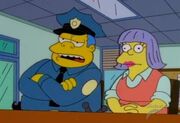 In the Season 14 episode, "A Star Is Born Again" [4], Clancy mentions she was more beautiful at the dance than the day he arrested, she giggles in reply. He then mentions he only planted the crystal meth on her so she would "notice" him so he has an excuse to arrest her and fall in love with her, despite not doing the crystal meth, any drugs, or any crimes in general. Sarah (according to Clancy) is his "home force". At one time, she immediately dials the authorities at Clancy's command as a reference to the old-fashioned operator who had the stereotypical name "Sarah."
In the Season 32 episode, "Uncut Femmes", Sarah received a one time retcon to work with this episodes plot line, she speaks awkwardly and acts very weird in the beginning of the episode when she talks to Marge, and her past shows her as a jewelry thief along with 2 other girls, and she met Clancy (at the time a security guard and not a cop) during a robbery the girls were doing and Sarah was the distraction of the 3 girls, she ended up falling in love with him while she was distracting him, despite not intending to actually fall in love in him.
Appearance
Sarah has bluish-purple hair and she wears a light teal (almost white) shirt with rolled up sleeves. She also wears a light pinkish-orange dress and wears reddish-orange shoes. Sarah is about 5'8 feet tall and is relatively plump, but not as fat as her husband, Chief Wiggum. In one episode, during her youth, Sarah was very noticeably thinner.
Non-Canon Appearances
In "The Simpsons Spin-Off Showcase," where various supporting characters get spin-offs, one spin-off (Wiggum, P.I.) has Sarah's marriage to Clancy eventually dissolve and they get a divorce. He gets custody of Ralph and moves to New Orleans.
Future
At the end of "Flanders' Ladder", she is shown to be one of the many deceased wives of Ned Flanders.
Video Games
The Simpsons Game, when you talk to Sarah, all she says is 'Clancy' (referring to her husband). This includes when you attack her and when she runs away screaming. Chief Wiggum mentions her during the Duff Ultimate Eating Challenge saying that the food was so much better than her cooking.
In August 2018 Sarah was added as a Premium Character to Tapped Out in a bundle which also contains the Springfield Aquarium. She is one of the 'Alcoholic' characters as her tasks include the hour-task of attending AA Meetings with characters such as Bernice Hibbert and Barney. The Sarah Wiggum/Springfield Aquarium bundle reappeared during the Black Friday 2018 event as one of the prizes inside selected mystery crates.
Trivia
She tries out for Poochie's voice for The Itchy & Scratchy Show, but of course, she isn't heard.[5]
Clancy's pet name for her is "Poppin Fresh" based on the Pillsbury Doughboy.[6]
As hinted by Ralph: "You look like my mommy after her box of wine." She may be an alcoholic, but she is only portrayed as an alcoholic in Tapped Out, as in the series when she has appearances, she is not drinking in every appearance or everytime a bar appears, she isn't in the background. Only in a few episodes with her having appearances show her drinking or holding a glass of wine. But in an episode (in season 32), at night. she steals the captain's beer and takes a large swig before letting her hair go wild. But taking a swig once doesn't make you an alcoholic.
It is revealed that Marge Simpson does not like Sarah, but in later episodes, Sarah is seen hanging out with Marge.[7]
In "The President Wore Pearls", she was shown with ginger hair.
In Uncut Femmes, the character received a retcon just for this one episode, as well as a one time voice change done by celebrity voice actor Megan Mullally so that the character's temporarily personality will work with the plot line for this episode according to series writer Matt Selman. In this episode, her past shows that she used to be a robber with two girls. One day, a girl (to which they called Red) asked for their help for a diamond. They needed to go into a building to get into a safe and, as Sarah was the Distract, or Eye Candy, of the group, she went in to see Clancy sitting there who in this episode was a security guard. She did not intend to actually fall in love with him.
Gallery
Appearances
Reference
Community content is available under
CC-BY-SA
unless otherwise noted.