Señor Ding Dong is a mysterious Mexican man who wears a bell on his head. He appeared to stop a constantly ringing doorbell that Marge had purchased. It was said that he was once just a promotional item but has become "so much more". He apparently also did inspections of various storefronts and may have been very unforgiving, as Gil Gunderson complained about his shoes being covered in fecal matter due to a prank that Nelson Muntz played on him due to it occurring on the same day as an inspection to the store.
He is also listed in Reverend Lovejoy's Psalm Pilot in "Wedding for Disaster" among the people whose blessings "didn't count."
Señor Ding-Dong was also released as a figure in the limited edition 20th Anniversary Figure Collection.
He recently appeared in The Simpsons: Tapped Out as a premium limited time character during the Superhero 2017 mini-event that comes with his Doorbell Fiesta.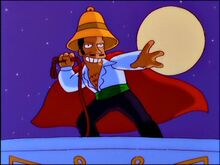 Appearances
Community content is available under
CC-BY-SA
unless otherwise noted.