Season 28 is the twenty-eighth season of The Simpsons that premiered on September 25, 2016 with "Monty Burns' Fleeing Circus" and ended on May 21, 2017 with "Dogtown". The show's 600th episode aired during this season.
Announcement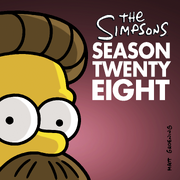 On May 4, 2015,
FOX
announced that
The Simpsons
had been renewed for seasons
27
and 28, with an option for two more seasons after that.
Episodes
Image
#
Title
Prod. Code
Airdate
Title Reference
597
Monty Burns' Fleeing Circus
VABF20
September 25, 2016
Monty Python's Flying Circus
598
Friends and Family
VABF18
October 2, 2016

N/A

599
The Town
VABF17
October 9, 2016
The Town (Movie)
600
Treehouse of Horror XXVII
VABF16
October 16, 2016

N/A

601
Trust But Clarify
VABF21
October 23, 2016
Trust, but Verify
602
There Will Be Buds
VABF22
November 6, 2016
There Will Be Blood
603
Havana Wild Weekend
VABF19
November 13, 2016
Having a Wild Weekend
604
Dad Behavior
WABF01
November 20, 2016
Bad Behavior
605
The Last Traction Hero
WABF03
December 4, 2016
Last Action Hero
606
The Nightmare After Krustmas
WABF02
December 11, 2016
The Night Before Christmas
607
Pork and Burns
WABF06
January 8, 2017
Pork and Beans
608-
609
The Great Phatsby
WABF04/
WABF05
January 15, 2017
The Great Gatsby
610
Fatzcarraldo
WABF07
February 12, 2017
Fitzcarraldo
611
The Cad and the Hat
WABF08
February 19, 2017
The Cat in the Hat
612
Kamp Krustier
WABF09
March 5, 2017
Kamp Krusty
613
22 For 30
WABF10
March 12, 2017
30 for 30
614
A Father's Watch
WABF11
March 19, 2017
A Father's Will
615
The Caper Chase
WABF12
April 2, 2017
The Paper Chase
616
Looking for Mr. Goodbart
WABF13
April 30, 2017
Looking for Mr. Goodbar
617
Moho House
WABF14
May 7, 2017

N/A

618
Dogtown
WABF15
May 21, 2017
Dogtown
Citations