We're Getting Mutants in the MCU - The Loop
Play Sound
The third season began on September 19, 1991 with the first episode, "Stark Raving Dad," and ended on August 27, 1992 instead of in May with "Brother, Can You Spare Two Dimes?" Al Jean and Mike Reiss were the show runners and produced most of the episodes in the season. Season 3 received one Emmy award and received one other nomination. Six voice actors shared the Emmy for "Outstanding Voice-Over Performance," and the show was nominated for "Outstanding Animated Program" for "Radio Bart."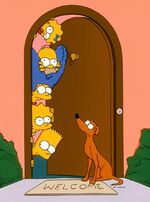 Season 3 is also noteworthy for the guest voice appearance of Michael Jackson (credited at the time as "John Jay Smith") in "Stark Raving Dad." Jackson voiced his character's speaking parts while sound-a-like Kipp Lennon performed all of the singing. Jackson also wrote the song "Happy Birthday, Lisa." After the episode was produced, the show instituted a policy that celebrities wishing to guest-star on the show had to be willing to be credited under their real names rather than using pseudonyms.
Season 3 is one of only two seasons to date with no Christmas break, "I Married Marge" aired on December 26, 1991, meaning that the season continued airing over Christmas.
All 24 episodes of Season 3 were released as a DVD boxset on August 26, 2003 in Region 1, October 6, 2003 in Region 2, and October 22, 2003 in Region 4.
Episodes
Picture
#
Title
Original airdate
Directed by
Written by
Prod. code
36 - 1
"Stark Raving Dad"
September 19, 1991
Rich Moore
Al Jean & Mike Reiss
7F24

Through a series of misunderstandings, Homer is put into a mental hospital and his roommate is a man who talks and sings like Michael Jackson. Everything is cleared up and Homer is released, and he brings "Michael Jackson" home, where nobody believes him. However, in all the confusion, everyone has forgotten about Lisa's birthday—including Bart, who didn't even remember to buy a present.

NOTE: This episode was banned from airing on TV, and was excluded from streaming services and future pressings of the Season 3 DVD Boxset after allegations against Michael Jackson were reinstated in the controversial 2019 documentary Leaving Neverland.

37 - 2
"Mr. Lisa Goes to Washington"
September 26, 1991
Wes Archer
George Meyer
8F01

Lisa wins the local competition of an essay contest, earning the family a trip to Washington, D.C. for the finals. Lisa sees Bob Arnold (her own representative) taking a bribe. Disgusted, she changes her previous uplifting essay into a cynical one denouncing corruption in government in general and Bob Arnold in particular.

38 - 3
"When Flanders Failed"
October 3, 1991
Jim Reardon
Jon Vitti
7F23

Ned Flanders opens the Leftorium, a store specializing in merchandise for left-handed people. Homer thinks it's a stupid idea and secretly wishes for the store to fail and Ned to be humiliated. Homer's wish comes true when business is very slow, and Ned is facing financial ruin and the loss of his house.

39- 4
"Bart the Murderer"
October 10, 1991
Rich Moore
John Swartzwelder
8F03

Bart is hired to work in a Mafia bar run by Fat Tony (making his first appearance). Bart is late for work due to having been put in detention by Principal Skinner. Fat Tony announces that he and his men will "meet and greet" Skinner, and shortly after that, Skinner disappears. Both Bart and Fat Tony are charged with Skinner's murder, and at the trial, Fat Tony tries to pin the murder (and all of his other illegal activities) on Bart.

40 - 5
"Homer Defined"
October 17, 1991
Mark Kirkland
Howard Gewirtz
8F04

At the nuclear power plant, Homer prevents a meltdown through sheer luck. He is hailed as a hero, but fears being found out as being only lucky rather than brave or clever. Meanwhile, Bart's and Milhouse's friendship is strained when Mihouse's mother considers Bart to be a bad influence and orders Milhouse to stay away from him.

41 - 6
"Like Father, Like Clown"
October 24, 1991
Jeffrey Lynch with Brad Bird
Jay Kogen & Wallace Wolodarsky
8F05

Krusty the Clown has dinner with the Simpsons, and reveals that he is Jewish, his real name is Herschel Krustofsky, and he is estranged from his rabbi father. They parted ways over Krusty's becoming a clown instead of following his father and becoming a rabbi. Bart and Lisa see Krusty becoming depressed, and they take it upon themselves to reunite him with his father.

42 - 7
"Treehouse of Horror II"
October 31, 1991
Jim Reardon
Al Jean & Mike Reiss, Jeff Martin, George Meyer, Sam Simon, John Swartzelder
8F02

Lisa, Bart, and Homer eat excessive amounts of candy, and Marge warns them that they will get nightmares from it. They ignore her warning, and each of the three has a nightmare.

Lisa's Nightmare: The Simpsons buy a severed monkey paw from Morocco, which can grant a limited amount of wishes for a particular set of users depending on the number of fingers that are extended. Maggie, Bart, Lisa and Homer each make a wish from it and most of the wishes result in unexpected consequences.

Bart's Nightmare: Bart has an ability to manipulate things with his mind. Everyone is compelled to carry out his orders, agree with his opinions, etc., in order to prevent him from using his ability on them.

Homer's Nightmare: In an effort to create the ultimate worker, Mr. Burns transplants Homer's brain into a robot.

43 - 8
"Lisa's Pony"
November 7, 1991
Carlos Baeza
Al Jean & Mike Reiss
8F06

Homer loses much of Lisa's respect for him after he botches the task of getting her a saxophone reed she needs for a talent show. Homer realizes that he's been ignoring Lisa since she was a baby and thinks that's what's causing problems now, so he buys Lisa a pony to change her opinion of him.

44 - 9
"Saturdays of Thunder"
November 14, 1991
Jim Reardon
Ken Levine & David Isaacs
8F07

Trying to be a better father, Homer helps Bart build a soapbox racer. Bart's racer is a flop, but Martin Prince's is the fastest and wins the race. When Martin is hurt, he asks Bart to fill in as driver so that at least one of them can beat Nelson Muntz in the race.

45 - 10
"Flaming Moe's"
November 21, 1991
Rich Moore & Alan Smart
Robert Cohen
8F08

Homer tells Moe the story of how he created a drink by combining several liquids (including cough syrup) and setting it on fire, which he called the "Flaming Homer." Moe serves the drink in his bar and quickly renames it the "Flaming Moe," insisting that he is the inventor rather than Homer.

46 - 11
"Burns Verkaufen der Kraftwerk" "Burns Sells the Power Plant"*
December 5, 1991
Mark Kirkland
Jon Vitti
8F09

Wishing to retire and pursue other interests, Mr. Burns sells the nuclear power plant to two German businessmen. The new owners evaluate the plant and its employees with the goal of making it more efficient and decide to lay off Homer. Meanwhile, Mr. Burns finds retirement to be unsatisfying.

*- An English translation of the original (faulty) German title. The grammatically correct title should've been "Burns verkauft das Kraftwerk".

47 - 12
"I Married Marge"
December 26, 1991
Jeffrey Lynch
Jeff Martin
8F10

Marge is concerned that she may be pregnant again when a home pregnancy test gives inconclusive results. While she sees Dr. Hibbert, Homer tells the kids the story of Homer's and Marge's wedding, Bart's birth, and Homer's applying for a job at the Springfield Nuclear Power Plant.

48 - 13
"Radio Bart"
January 9, 1992
Carlos Baeza
Jon Vitti
8F11

Bart celebrates his birthday and is disappointed with his presents, but later appreciates Homer's present to him (a microphone which can send voices over a radio) when he uses it to play pranks on people. Bart deceives the whole town when he pretends to be an orphan boy named Timmy O'Toole trapped in a well.

49 - 14
"Lisa the Greek"
January 23, 1992
Rich Moore
Jay Kogen & Wallace Wolodarsky
8F12

Homer and Lisa begin to bond over watching football games on TV, and Homer discovers that Lisa has a skill for accurately predicting the winners. Homer takes advantage of Lisa's ability, placing and winning wagers on the games.

50 - 15
"Homer Alone"
February 6, 1992
Mark Kirkland
David M. Stern
8F14

Marge has been under a lot of stress at home and finally snaps, lashing out by causing a traffic jam on a bridge. She decides to take a vacation—by herself—to calm down and relax. Bart and Lisa stay with Aunts Patty and Selma, while Homer stays home to take care of Maggie. Marge enjoys her vacation, but the family struggles in her absence.

51 - 16
"Bart the Lover"
February 13, 1992
Carlos Baeza
Jon Vitti
8F16

While serving detention, Bart discovers that Mrs. Krabappel has placed a personal ad in the newspaper. For a prank, he answers her ad, creating an alter-ego for himself by using the first name of former President Woodrow Wilson, a photo of hockey player Gordie Howe, and his parents' old love letters. Meanwhile, Ned Flanders is concerned that his son Todd has learned profanity by overhearing Homer, and convinces Homer to control his swearing.

52 - 17
"Homer at the Bat"
February 20, 1992
Jim Reardon
John Swartzwelder
8F13

Springfield Nuclear Power Plant's softball team has an undefeated season, thanks in part to Homer's homemade yet efficient "Wonderbat" which has helped him become the team's leading hitter. Mr. Burns makes a million-dollar bet on the championship game, and then replaces the team members with Major League Baseball players to ensure a win.

53 - 18
"Separate Vocations"
February 27, 1992
Jeffrey Lynch
George Meyer
8F15

The students of Springfield Elementary School take an aptitude exam to see what careers would best suit them. Bart's results indicate that he would be a good police officer, and Lisa's indicate "homemaker." Bart improves his discipline and performance and becomes a hall monitor, while Lisa loses her motivation and becomes a troublemaker.

54 - 19
"Dog of Death"
March 12, 1992
Jim Reardon
John Swartzwelder
8F17

Santa's Little Helper becomes severely ill and needs an expensive operation to survive, and the Simpsons are forced to make budget cuts to afford it. The operation is a success, but the family comes to resent the sacrifices they had to make.

55 - 20
"Colonel Homer"
March 26, 1992
Mark Kirkland
Matt Groening
8F19

Homer meets a barmaid named Lurleen Lumpkin, who turns out to be a talented singer and songwriter. Homer becomes her manager to help her launch her career in country music, but is unaware that she has fallen in love with him. Marge, however, is aware of Lurleen's attraction to Homer and suspects that the two of them are having an affair.

56 - 21
"Black Widower"
April 9, 1992
David Silverman
Jon Vitti,Thomas Chastain and Sam Simon
8F20

Aunt Selma has a new boyfriend—Sideshow Bob, who has just been released from prison. The two of them get married, but Bart remains suspicious of Bob, due to Bob's criminal past of robbing the Kwik-E-Mart and attempting to frame Krusty for it.

57 - 22
"The Otto Show"
April 23, 1992
Wes Archer
Jeff Martin
8F21

Otto wrecks the school bus and is fired when it's discovered that he never had a driver's license. Otto is unable to get his license or find another job, and the Simpsons (at Bart's urging) take Otto in until he can get back on his feet. The family and Otto get on each other's nerves.

58 - 23
"Bart's Friend Falls in Love"
May 7, 1992
Jim Reardon
Jay Kogen & Wallace Wolodarsky
8F22

Milhouse falls in love with Samantha Stankey, a new student at Springfield Elementary, and the two of them begin dating, which puts a strain on Milhouse's and Bart's friendship. Bart tries to break the couple up and succeeds when he tells Samantha's father about their relationship.

59 - 24
"Brother, Can You Spare Two Dimes?"
August 27, 1992
Rich Moore
John Swartzwelder
8F23

A company physical exam reveals that radiation from the nuclear plant has made Homer sterile, and Mr. Burns awards Homer $2,000 in an attempt to keep him from suing. Meanwhile, Homer's half-brother Herb Powell has been living as a bum since the loss of his car company (in "Oh Brother, Where Art Thou?") and gets an idea for a baby translator, which could make him rich again. Herb is still bitter at Homer, but when he learns of Homer's award he goes to the Simpsons and asks for help.
Introductions
Characters introduced
Locations introduced
Vehicles introduced
DVD Release
Season 3 was released on DVD in its entirety as The Complete Third Season Boxset on August 26, 2003 in region 1, October 6, 2003 in Region 2 and October 22, 2003 in Region by 20th Century Fox Home Entertainment. While primarily containing the original 24 episodes, the boxset also consists on bonus features such as storyboards.
The Complete Third Season
Set Details
Special Features

24 episodes
4-disc set
1.33:1 aspect ratio
Languages:

English (Dolby Digital 5.1, with subtitles)
French (Dolby Digital 2.0 Surround)
Spanish (Dolby Digital 2.0 Surround,with subtitles)

Release Dates
Region 1
Region 2
Region 4
26 August 2003
6 October 2003
22 October 2003
Awards
Season 3 won one Emmy award. Six voice actors shared the Emmy for "Outstanding Voice-Over Performance":
The show received one other Emmy nomination for Season 3: "Outstanding Animated Program" for "Radio Bart."
Michael Jackson and Kipp Lennon guest-starred in "Stark Raving Dad." Jackson appeared under the pseudonym of "John Jay Smith" and voiced his character's speaking parts, while Lennon performed all of the singing. Jackson also wrote the song "Happy Birthday, Lisa." After the episode was produced, the show instituted a policy that celebrities wishing to guest-star on the show had to be willing to be credited under their real names rather than using pseudonyms.