"Send in the Clowns" is a song originally from the musical A Little Night Music written by Stephen Sondheim. Krusty sings his own lyrics in the episode "Krusty Gets Kancelled". It is the twenty-eighth track on the album Songs in the Key of Springfield.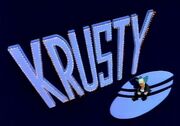 Lyrics
Announcer:
Live from Springfield, the entertainment capital of this state, The Krusty Komeback Special!
Krusty:
Send in the clowns,
Those daffy laffy clowns,
Send in those soulful and doleful,
Shmaltz-by-the-bowlful clowns.
Send in...the clowns. (sobs)
They're already here!
(applause)
I love you, Krusty.
Krusty:
Quiet!
Community content is available under
CC-BY-SA
unless otherwise noted.