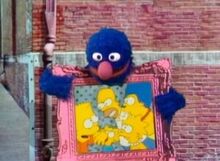 Sesame Street is an educational television program designed for preschoolers, and is recognized as a pioneer of the contemporary standard which combines education and entertainment in children's television shows. The Simpsons appeared in the celebrity version of the Sesame Street song "Monster in the Mirror." The Simpsons replace two monsters on a wall painting, and at the end, Homer reprimands Bart (who yells "Hey, wubba man!").
Nancy Cartwright is also credited for voicing Bart Simpson in the 1996 Sesame Street episode Maria In the Hospital, Part 1.
The Simpsons has also made many references to Sesame Street.
References
Image
Episode / Description

Miracle on Evergreen Terrace (December, 1997)

Milhouse tells Bart that he's gotten a "Tickle-me-Krusty" (a play on the Tickle-me-Elmo).

The doll appears again in the episode The Dad Who Knew Too Little (January 2003), when toy store clerk Raphael notes that it was the best-selling toy of 1999.

Trash of the Titans (April, 1998)

In the musical number "The Garbage Man Can," Oscar pops out of one of the trash cans.

Missionary: Impossible (February, 2000)

When Homer scams the PBS telethon, an angry crew chases after him demanding money. Included in the PBS mob are Fred Rogers, Yo-Yo Ma, the Teletubbies, Big Bird (who angrily squawks like a real bird), Oscar and Elmo.

Oscar: Give us the money!
Elmo: Elmo knows where you live!

In the DVD audio commentary on this episode, the producers point out that the children's television characters in the Simpsons' universe are "Oscar the Grump" and "Elmaux", who are vastly (and legally) different than Sesame Street's "Oscar the Grouch" and "Elmo".

Moe Baby Blues (May, 2003)

When babysitting Maggie, Moe says that "You can't tickle Elmo no more." He then pulls an Elmo doll off the shelf. When he tries to tickle it, it says "No means no for Elmo!" and slaps him.

Bart-Mangled Banner (May, 2004)

When the Simpsons are in prison for being unpatriotic, Lisa points out several celebrities who are there as well including Michael Moore, the Dixie Chicks, Elmo and President Bill Clinton. Elmo admits that "Elmo go to wrong fundraiser!" Later, when they make their escape and swim in the ocean, Homer says, "I don't wanna end up like Elmo, hanging myself in a cell."

The Girl Who Slept Too Little (September, 2005)

Marge admits her dislike towards The Count and a clip of him counting coconuts in his castle is shown on the TV. When the Count laughs (in a scary, ghoulish laugh instead of his trademark laugh) Marge gets upset and yells, "Go back to your own country!"
More coming later
See Also
Citations
Community content is available under
CC-BY-SA
unless otherwise noted.