"I wish there was a gym for us regular ladies."
―Marge Simpson's inspiration for opening Shapes

Shapes is a fitness center chain that Marge Simpson opened. Its purpose is to provide a positive workout environment for ordinary women.
History
When Marge found out she was gaining weight, she looked for a gym to join. After a bad experience at L.A. Body Works, Marge saw the business space vacated by The Android's Dungeon.
She turned it into Shapes, a fitness center for regular women. Marge's gym quickly became very popular among the women of Springfield -- the day she opened, there were women lined up around the block waiting to get in.
To accommodate all of her customers, Marge opened a second Shapes location in a building that had previously been a Krusty Burger restaurant.
Shapes then became a resounding success, turning into a national chain and making Marge rich and famous. It also led to Marge appearing on The Opal Show, where Opal thanked Marge for creating Shapes, and added that her boyfriend thanked her too.
It's unknown what became of Shapes as it is never mentioned again and Marge is never shown doing anything related to it.
It is possible that Marge sold the chain, or is now just earning money while other people work for her. Shapes has four rules, which are posted in the entrance area:
No men
No cell phones
No mirrors
No shame
Shapes' slogan, posted on the wall of the workout station room, is "I am woman, hear me sweat."
It is possible that Shapes and Marge becoming rich and famous was all part of Homer's dream and all of these events never happened, since Marge was back in her normal clothes with no memory of being rich and famous after Homer wakes up from his dream and Comic Book Guy never really sold the store.
Known customers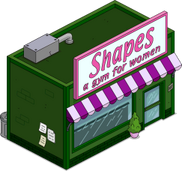 Behind the Laughter
Appearances