"I have hair!"
"Simpson and Delilah" is the second episode of Season 2.
Synopsis
Homer tries a new hair growth formula — Dimoxinil — and wakes up with a full head of hair, which wins him a promotion at work. However, Homer's hair and success prove to be short-lived when it is revealed that he fraudulently charged the Dimoxinil to the company health plan.
Full Story
While watching TV with the family, Homer sees a commercial for a hair restorer called Dimoxinil, branded as a "miracle breakthrough" by the announcer on TV. He visits a doctor who sells Dimoxinil, but learns that it costs $1,000, and Homer is unable to afford that. Lenny suggests Homer pay for Dimoxinil through the company's health plan: "Just fill out a few medical insurance forms creatively." Homer arranges to get the Dimoxinil through a shady deal in an alley with the doctor he visited previously. He applies the restorer to his head, and the next day, Homer wakes up with hair. At work, Mr. Burns surveys the security monitors to find a new person to promote to an executive promotion. He sees Homer with hair and chooses him for the job.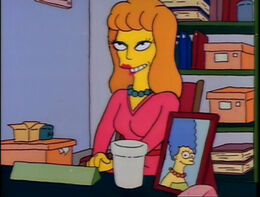 Now that he's an executive, Homer looks for a good secretary, but all of the applicants—attractive women who openly flirt with Homer—fail until a man named Karl applies. Homer hires Karl, and finds in him a man who sees that Homer is not executive material, but is willing to help him. The two improve Homer's workplace wardrobe, and Karl even arranges for roses and a singing telegram when Homer forgets his and Marge's wedding anniversary. At the power plant's board meeting, Homer makes a suggestion to improve the low productivity and decrease the record high worker accident rate: Give people more tartar sauce when they have fishsticks every Tuesday. Mr. Burns approves Homer's proposal, and accidents do decrease while productivity increases. However, Smithers observes that the decrease in accidents exactly matches the number that Homer himself is known to have caused last month, and the productivity increase matches the one that occurred the last time Homer went on vacation. Burns, however, is impressed with Homer's efforts and gives him the key to the executive washroom. Smithers grows jealous over Mr. Burns' joy regarding Homer's work at the plant, and when Mr. Burns asks Homer to towel off his hands (bypassing Smithers) and follow him down the hall, it is the last straw. Smithers takes matters into his own hands. Checking through the plant's files, Smithers finds Homer's "creatively" filled out medical insurance form and sees that Homer charged Dimoxinil to the company health plan and wrote "to keep brain from freezing" as the reason for the charge.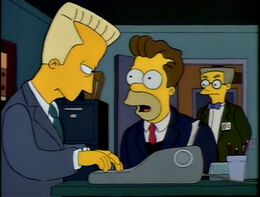 Shortly afterwards, Burns asks Homer to give a speech to the executives. As Homer discusses the speech with Karl, Smithers meets up with them and confronts Homer about the insurance fraud, ready to fire him on the spot. However, Karl convinces Smithers that the entire scheme was his idea, and he is fired instead of Homer. Karl politely says his goodbyes to Homer, who now has to worry about the big speech without his secretary's help. When he gets home, he finds Bart using the Dimoxinil bottle, splashing the formula on his face in order to grow a beard. Homer's exclamation at seeing Bart handling the formula scares Bart and causes him to spill the hair restorer. The next day, without it, Homer loses all his hair before the big meeting. At work, he's surprised to find Karl, who has written a series of notecards for Homer to help him with his speech. However, Homer tells Karl that without his hair, he won't be taken seriously. Karl energizes Homer with a pep-talk, explaining that all the things he did (the tartar sauce, the washroom key, drying Burns' hands) were the result of him, not the hair.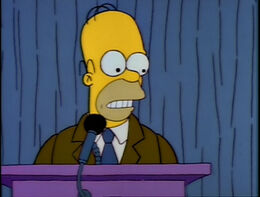 Homer presents his speech about economizing the power plant. Despite the fact that Homer gives a brilliant speech about the Japanese art of self-management that could save the plant a lot of money, it flops because none of the other executives are willing to take a bald man seriously. By the end of the speech, the entire audience has walked out, and Homer is summoned to Mr. Burns' office. Burns voices his displeasure, but rather than fire Homer, he decides to show him something. Burns shows him a scrapbook of his youth when he had blond curly hair, which he was considered attractive until his senior year of college when he became "bald as a plucked chicken." Knowing what Homer has gone through, Burns is willing to give Homer his old job back. Even so, Homer is still upset, worried that Marge won't love him now that he has no hair, as well as his annoyance at losing his chance to escape that dead end job in Sector 7-G, and that the kids are going to hate him as now he cannot make good on his promises of getting them luxuries. But Marge being Marge, she lets him know that the hair doesn't matter. She also tells Homer that his job has always provided their needs and that the kids will get over not being spoiled. The episode finishes with Marge singing "You are so beautiful to me".
Transcript
Production
Homer's hair product Dimoxinil is a spoof on a similar product, Minoxidil, which fascinated the writers. The production staff tried to give Homer a new hairstyle in each scene after he grows hair, which started with his long hair, then changed into a 1970s small afro, then a close-cropped 1950s haircut, and finally a moussed 1980s hairdo with a small ponytail. Homer's final look was inspired by Miami Vice. The character Karl was played by openly gay actor Harvey Fierstein. Groening had originally intended to design Karl to look like Fierstein, who objected to the idea because he felt he did not "look like gay people, how they're supposed to look." Fierstein suggested that the character be made "blond, and tall, and gorgeous, and skinny, and [given] a beautiful place to live."
In contrast to Albert Brooks, Dustin Hoffman, and Michael Jackson, who did not allow their real names to be used (Brooks later did), Fierstein was one of the very few early guest stars who was not embarrassed or reluctant to be associated with the show and welcomed his name in the credits.
The episode features a kiss between Homer and Karl, which occurred a decade prior to US television's first real man-on-man kiss on Dawson's Creek. In the episode, Karl is implied to be homosexual; creator Matt Groening says that when people began asking "was he gay?" the day after the episode aired, his response was "he's whatever you want him to be." However, Groening points out, "he does kiss Homer: He does give him a nice pat on the butt" which is "beyond [what] any other cartoon" had done at the time.
Karl was originally supposed to return for a cameo appearance in the season 14 episode "Three Gays of the Condo". In the script, Homer was thrown out of the house by Marge, and encountered Karl. The purpose of the appearance was to introduce a gay couple that Homer would live with. Fierstein however felt that "the script was a lot of very clever gay jokes, and there just wasn't that Simpsons twist" and turned the role down.
Reception
During the second season, The Simpsons aired Thursdays at 8 p.m. on Fox, the same time as The Cosby Show on NBC. The supposed "Bill vs. Bart" rivalry had been heavily hyped by the media. The first airing of "Simpson and Delilah" had a 16.2 rating and 25% share, while The Cosby Show had an 18.5 rating. However, viewer-wise, The Simpsons won with 29.9 million viewers. It is one of the highest-rated episodes of The Simpsons. "Bart Gets an 'F'", the season premiere and episode that aired the week before, averaged an 18.4 Nielsen rating, had 29% of the audience and was watched by an estimated 33.6 million viewers.
This episode was placed twenty-third on Entertainment Weekly's top 25 The Simpsons episodes list. The Daily Telegraph characterized the episode as one of "The 10 Best Simpsons TV Episodes."
Dan Castellaneta, the voice of Homer, named it his favorite episode of the show together with "Lisa's Substitute" and "Homer the Heretic". When The Simpsons began streaming on Disney+ in 2019, former Simpsons writer and executive producer Bill Oakley named this one of the best classic Simpsons episodes to watch on the service.
Harvey Fierstein is number two on TV Guide's "All-time Favorite Guest Voices." Entertainment Weekly named Fierstein's role as Karl as one of the sixteen best guest appearances on The Simpsons. Warren Martyn and Adrian Wood, the authors of the book I Can't Believe It's a Bigger and Better Updated Unofficial Simpsons Guide, praised Fierstein's performance, saying the episode was "brought to life by the superb character of Karl, helped no doubt by Harvey Fierstein's unique vocal drawl."