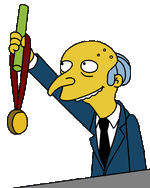 The Editor of the Month Award is an award given away every month to a Simpsons Wiki user. Remember that the award is not based on edit count, but quality of contributions. For the top users in edit count, see Special:Top/community and the Achievements Leaderboard.
Note: Although there are three medals available for each category, less medals can be issued if there is not enough suitable users/articles that reach the criteria. Furthermore, admins have the final word: If we do not feel anyone is worthy of the award, the medals will not be given.
Editor of the Month

Golden Editor Award - Best overall service to the Wiki.


Silver Editor Award - Second best overall service to the Wiki.


Bronze Editor Award - Third best overall service to the Wiki.
Summary
This award is given to users who have most BENEFITED the wikia in the last month. This is includes their edit quality, dedication, activeness and a general all rounder who we think deserves recognition for all their hard work.
Rules
Anyone can nominate a user and vote.
IPs can not be nominated.
You must be a registered user to enter.
You must accept and acknowledge your nomination if others nominate you.
ANY spam or 'throw-away' edits will result in disqualification - this means you cannot edit for the sake of building your edit count.
QUALITY is the primary award criteria. You may do the most edits, but someone else may win the award. An edit count will NOT win the award for you. Any attempts to spam for the award will results in consequences.
Only content will be considered. Admins editing site functionality will not help in their criteria to win - it would be unfair for admins to win for edits others cannot make.
January 2012 Nominees
Below are the two categories. If you feel you are up for the prize, then add your name, a few reasons why and of course your signature. If you feel someone else has done a great job, then do the same for them (except the feature article award).
Mateo m27
Mateo m27 is like the new Jhonevans. Making pages about nearly every location. Random? No. You can say something





11:14, January 8, 2012 (UTC)
Support
Glad to have him around, excellent editor, knows mostly what he is doing. My only objection would be lack of communication. Jhonevan's signature. 23:59, January 13, 2012 (UTC)
Neutral
Oppose
Comments
Community content is available under
CC-BY-SA
unless otherwise noted.