Line 1:
Line 1:
 
+
 
+
 

{|align="right" style="text-align: center; border: solid 1px #CCC; margin: 20px; padding: 5px;"

 

{|align="right" style="text-align: center; border: solid 1px #CCC; margin: 20px; padding: 5px;"

 

|<center>[[File:Archive filingcabinent.png|50px]]</center>

 

|<center>[[File:Archive filingcabinent.png|50px]]</center>

Line 24:
Line 26:
 

This looks funny and would make a great featured picture. ☆<span style="font-family:Algerian">[[User:Solar Dragon|<span style="color:green">The</span>]] [[User talk:Solar Dragon|<span style="color:red">Solar</span>]] [[Special:Contributions/Solar Dragon|<span style="color:blue">Dragon</span>]]</span>☆ 19:48, August 14, 2010 (UTC)

 

This looks funny and would make a great featured picture. ☆<span style="font-family:Algerian">[[User:Solar Dragon|<span style="color:green">The</span>]] [[User talk:Solar Dragon|<span style="color:red">Solar</span>]] [[Special:Contributions/Solar Dragon|<span style="color:blue">Dragon</span>]]</span>☆ 19:48, August 14, 2010 (UTC)

 
 
−

=== Support (2) ===

+

=== Support () ===

 

#It has my support. {{User:TheHomer/sig}} 21:03, August 14, 2010 (UTC)

 

#It has my support. {{User:TheHomer/sig}} 21:03, August 14, 2010 (UTC)

 

#Yup. {{User:Effluvium/sig}} 15:36, August 21, 2010 (UTC)

 

#Yup. {{User:Effluvium/sig}} 15:36, August 21, 2010 (UTC)
---
Revision as of 09:49, 16 October 2010

Past Nominations: 1
Featured pictures are pictures chose to be featured. These are either:
A promo picture for a new episode.
A picture chosen by the community to be featured.
Rules
Images must be of reasonable quality and size.
Images must be fully categorised under the appropriate character image categories.
Images must have licensing.
Nominations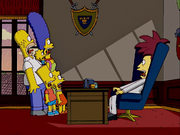 This looks funny and would make a great featured picture. ☆The Solar Dragon☆ 19:48, August 14, 2010 (UTC)
Support (3)
It has my support. — TheHomer (Talk • Contributions) 21:03, August 14, 2010 (UTC)
Yup.    Effluvium    talk    contributions    email   15:36, August 21, 2010 (UTC)
Loved This episode. Duncan Crook
Neutral (1)
Good picture, but it should be of higher quality to be featured. - ThePlatypus 00:57, August 19, 2010 (UTC)
Oppose (0)
Comments
Community content is available under
CC-BY-SA
unless otherwise noted.