| | |
| --- | --- |
| | RRabbit42 is the leader of this project. Please direct any questions about Project Appearances or its actions to this user. |
Project Appearances is a project that tries to get all lists of appearances fully up to date on all pages, including lists of characters (for the episode appearances tabs) and lists of episodes (for characters appearances lists).
As well as getting them up to date, they need to be kept that way, which will mean going through all characters, locations and anything else and adding the episode to that. This is a big task and will take a lot of work.
Message to all Project Members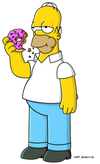 Add appearances
There are many articles out there that need appearances sections, even if they only need one episode listed. These should all have them added. If you notice an article missing an appearances section, add it in with all appearances you can think of for that subject.
Also, many articles need more appearances listed. These can be seen here.
Main appearances purge
Every month, we will have an article that I feel needs appearances the most. This month is:

USA
This has appeared in every single media section of The Simpsons and as such, needs a full list of appearances of every documented Simpsons related showing.
Ordering
All appearances should be in chronological order going:
Ullman Shorts
Episodes
Comics
Games
Adverts
Episode Appearances Sections
These should be galleries in one chunk and in chronological order of appearance if possible. All major characters with articles should be added, although if a character deserves an article, the red link and File:Blank.png should be added.
Members
To join the project, simply add your name to the bottom of the list.
| User | Status | Since | Notes (You can add notes for your section) |
| --- | --- | --- | --- |
| RRabbit42 | Active | September 14, 2014 | Project Leader, Bureaucrat |
Useful Links
Community content is available under
CC-BY-SA
unless otherwise noted.