Line 1:
Line 1:
 

__NOEDITSECTION__

 

__NOEDITSECTION__

−
 
 

<mainpage-leftcolumn-start />

 

<mainpage-leftcolumn-start />

−
 
 

<div style="margin-left: -10px;">

 

<div style="margin-left: -10px;">

 

{{Portal

 

{{Portal
---
Revision as of 22:00, 18 November 2010
[[

Category:Characters|Characters]]

[[

Category:Locations|Locations]]

[[

Category:Cast and Crew|Cast and Crew]]
---
Simpsons Wiki
is an encyclopedia for everything related to
The Simpsons
. The wiki allows anyone to create or edit any article, so everyone can contribute their knowledge to help create a decisive database of Simpsons information.
Featured article
Springfield Nuclear Power Plant softball team is a team that represents Mr. Burns' nuclear plant in the city softball league. Led by Homer, they do well in the early season and make the championship game against Shelbyville. However, Mr. Burns makes a million dollar bet on the outcome of the game, and decides to ensure victory by bringing in nine Major League players. Homer is replaced on the starting lineup by Darryl Strawberry, and it looks like the team will win without him. However, the Major League players fall to nine separate misfortunes, and Burns is forced to use his old players. In the final inning with bases loaded, Homer gets hit by a pitch, which counts as a hit, and wins the game and the 1992 city championship.

The 1992 team's original lineup consisted of Homer at right field, Lenny, Carl, Charlie, and a number of unknown players. In their opening game against the Springfield Police Department, the Power Plant was down 5-2 in the ninth with bases loaded. Homer went up to bat and revealed his secret weapon - Wonder Bat - to his team mates. They ridicule him, but Homer manages to hit a home run, and wins the game. The team goes on a hot streak, picking up wins against East Springfield, Fort Springfield (by a score of at least 33-7) and Springfield Heights, thanks largely to Homer and his bat.
Eventually, the only team standing between the Plant and the league pennant is Shelbyville Nuclear Power Plant. When they discover this, Mr. Burns, and Shelbyville plant owner Aristotle Amadopolis decide to make a million dollar bet on the outcome.

Featured episode
"Blood Feud" is the twenty-second episode of Season 2.
Homer discovers that Bart has a rare blood type that can save Mr. Burns's life, Homer convinces Bart to give blood (in the hopes that Burns will give The Simpsons a cash reward), but when all Mr. Burns gives Bart is a "Thank You" card, Homer writes a nasty letter to his boss...which ends up getting sent to Burns by Bart.

Read more of this episode | More featured episodes | Vote for Featured episode

Channel 6 News
Help out Simpsons Wiki by creating articles <createbox> width=24 break=no buttonlabel=Create new article </createbox>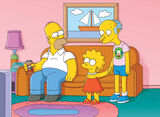 Name: "The Fool Monty" Date: November 21, 2010
"Ladies and gentlemen, uh, we've just lost the picture, but what we've seen speaks for itself. The Corvair spacecraft has apparently been taken over, 'conquered' if you will, by a master race of giant space ants. It's difficult to tell from this vantage point whether they will consume the captive Earthmen or merely enslave them. One thing is for certain: there is no stopping them; the ants will soon be here. And I, for one, welcome our new insect overlords. I'd like to remind them as a trusted TV personality, I can be helpful in rounding up others to toil in their underground sugar caves."
Vote for a featured quote | More featured quotes
Community content is available under
CC-BY-SA
unless otherwise noted.