This article is about Ringo Starr the real-life musician and voice actor. For the character, please see Ringo Starr (character).
Sir Richard Starkey (born July 7, 1940), known professionally as, Sir Ringo Starr, is an English musician who is most famous for being the drummer in The Beatles and narrating the first 2 seasons of Thomas & Friends.
History
Sir Ringo Starr became The Beatles drummer in 1962, replacing Pete Best. Although Starr's primary role with the band was playing the drums, he sang lead vocals on at least one song on most studio albums, such as "Yellow Submarine" and "With a Little Help from My Friends." Starr's unusual turns of phrase (such as "A Hard Day's Night" and "Tomorrow Never Knows"), which the other band members came to call "Ringoisms," tended to find their way into song lyrics, or even turn into songs. Starr eventually tried his hand at composing, and is credited as the sole songwriter for "Don't Pass Me By" on the White Album and "Octopus's Garden" on Abbey Road. He also received a co-writer credit for "What Goes On" on Rubber Soul.
After The Beatles broke up, Starr went on to a successful solo recording career, as did the other members of The Beatles.. However, out of all the Beatles members, Starr was the most successful as an actor. He played a central role in several Beatles films while the band was still together, and appeared in many movies after the band's breakup, receiving much critical acclaim. Starr has also been involved in many television projects, such as narrating the UK children's TV series Thomas & Friends for two seasons. He also played Mr. Conductor in the show's American spin-off, Shining Time Station, and voiced Thomas for the BBC's 2009 Children In Need Medley single, Peter Kay's All Star Animated Band.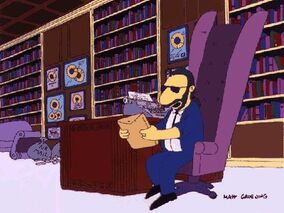 On The Simpsons, Starr voiced himself in the episode "Brush with Greatness." He is mentioned in a flashback scene that takes place when Marge was in high school; and in the present day, he is seen answering a piece of fan mail she sent him.
Sir Starr's replacing Pete Best as Beatles drummer is referenced in the episode "Homer's Barbershop Quartet," when Barney Gumble replaces Chief Wiggum on The Be Sharps.
Appearance
External links