The Sit-N-Rotate is a restaurant on top of a large tower that continuously rotates, reached by an elevator in the middle of the stand. Skinner and Patty once went there on a date. Homer gave the restaurant a good review during his stint as a food critic for The Springfield Shopper, although he ended up nauseated due to getting a glimpse of his sisters-in-law using exercise bikes in revealing exercise outfits from behind.
Non-canon appearances
In the "Treehouse of Horror X" segment "Life's a Glitch, Then You Die", the world's computers start to malfunction because of a virus. The Sit-N-Rotate spins at a high speed until it gets off its stand and flies away.
In the video game The Simpsons Game, level "Invasion of the Yokel-Snatchers", Kang and Kodos destroy the restaurant and place their spaceship on the stand (the restaurant and the spaceship look similar).
Behind the laughter
It is loosely based on the Space Needle in Seattle. You can also find a similar restaurant in Bratislava, Slovakia, but it no longer rotates.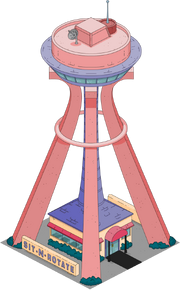 Appearances
Community content is available under
CC-BY-SA
unless otherwise noted.