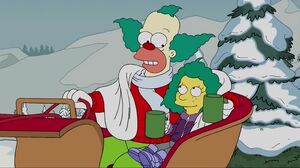 Sleigh Ride is a Christmas song, parodied by Krusty and Sophie at the end of The Nightmare After Krustmas.
Parody Lyrics:
SOPHIE: Just hear those Sleigh Bells jingling, Ring-ting-tingiling along!
KRUSTY: Let's sing a jolly holiday non denomintial song!
BOTH: Being pulled through the snow to our Wintertime feast by a PVC Beast,
MAN: My Web-Site traffic just increased!
KRUSTY: Best get you home to your mother or she'll call a laywer or two,
BOTH: There's nothing better than spending alternate weekends with you.
Community content is available under
CC-BY-SA
unless otherwise noted.