Jurassic World: Dominion Dominates Fandom Wikis - The Loop
Play Sound

Snowball II (1985-2004) was the Simpson family's second cat. Snowball II was named after Snowball I. Though Snowball I had white fur, which obviously inspired her name, Snowball II had black fur and greenish/yellow eyes.
Biography
Snowball I
The original Snowball got hit by a Chrysler, and Lisa got a new cat, whom she named Snowball II. Her name is slightly ironic because her fur is black unlike the original Snowball's fur or an actual snowball that is white.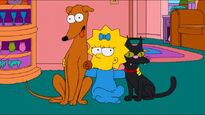 General
Snowball II once pulled Homer out of a burning tree house built by the Amish after Santa's Little Helper ran away. She has also tried desperately to get attention. When Santa's Little Helper had puppies she was scared by them.
Snowball II and Santa's Little Helper have always been shown as having a good relationship; usually they are seen sleeping near each other, they mated once in "Donnie Fatso".
Life with Lisa
Snowball II was hit and killed by Dr. Hibbert's Mercedes-Benz G500 in the episode "I, (Annoyed Grunt)-Bot". After numerous fleeting replacements for Snowball II, the fifth (and last surviving) Snowball was named Snowball II to avoid future confusion and having to spend more money on a new bowl.
Trivia
Gallery
Appearances
See also
External links
Simpson family
Simpson Family

Homer Simpson •

Marge Simpson •

Bart Simpson •

Lisa Simpson •

Maggie Simpson •


Santa's Little Helper •

Snowball V
Homer's living relatives

Abraham Simpson II •

Abbie •

Herbert Powell •

Tyrone Simpson • Dr. Simpson •

Cyrus Simpson •

Chet Simpson • Stanley Simpson • Bill Simpson • Frank Simpson • Cyrus's 15 wives
Marge's living relatives

Jacqueline Bouvier •

Selma Bouvier •

Patty Bouvier •

Ling Bouvier •

Jub-Jub
Homer's deceased relatives

Amber Simpson
Mona Simpson • Hubert Simpson •

Hortense Simpson

Orville Simpson • Bonita Simpson • Elrita Simpson • Twitta Simpson •
Yuma Hickman

"Old Tut" Simpson •

Gaston Simpson •

Hugo Simpson I • Dulcine Simpson • Lou Simpson • Floyd Simpson •

"Happy" Simpson

Howland Simpson • Zeke Simpson • Pippa Simpson •

Gabby Crouse

Garwood Simpson • Ivy Simpson • Galston Simpson • Prudence Simpson • Trixie Simpson •

Clowta Stillman

Rupert Simpson •

Lambert Simpson •

Winifred Running Goat • Humphrey Little Goat • Jane Nervous Goat


Sven Simpson •

Claretta Ethridge • Mary Frowning Cloud • Joe Puffing Goat
Marge's deceased relatives
Clancy Bouvier • Gladys Bouvier • Alvarine Bisque • Arthur Bouvier • Alfreda Bouvier II • Françoise Billout • Antoine Bouvier • Axel Bouvier • Bambi Bouvier • Charlene Bouvier • Chester Bouvier • Dorothé Bouvier • JoJo Bouvier • Monique Bouvier • Pépé Bouvier • Victor Bouvier • Victor Bouvier II • Cléo Bouvier • Didi Bouvier • Ferdinand Gurney • Gladys Gurney • Honoré Bouvier • Alfreda LeDoux • Angelique Marceau • Marcel Bouvier • Bambi Petitbois • Pierre Bouvier • Rowena Bouvier • Yves Bouvier
Non-canon Characters

Hugo Simpson II •

Maggie Simpson, Jr. •

Bart Simpson, Jr. •

Picard Simpson •

Kirk Simpson • Captain Kidney Pie • Colonel Custard • Maggie's Husband • Man O' Pies • Pieman of the World • Señor Fritatta •

Zia Simpson
Other Pets
Bart Junior • Chirpy Boy and Bart Junior • Coltrane • Duncan • Greyhound Puppies • Henry the Canary • Laddie • Lou • Mojo • Pinchy • Plopper • Princess • Smiley • Snowball I •

Snowball II • Snowball III • Snowball V • Snuffy • Stampy • Strangles • She's the Fastest