Wiki Targeted (Entertainment)
Play Sound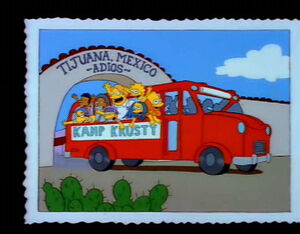 South of the Border is a song sung by Gene Merlino that appears in the episode "Kamp Krusty" and on Songs in the Key of Springfield during the Kamp Krusty melody at 44 seconds in. It was written by Jimmy Kenedy and Michael Carr for the film of the same name. The best known versions are the original by Gene Autry and the version by Frank Sinatra.
Lyrics
Bart:
How could you, Krusty? I never lend my name to an inferior product.
(gasps and sobs) They drove a dump truck full of money up to my house! I'm not made of stone!
Bart:
Krusty, this camp was a nightmare! They fed us gruel! They forced us to make wallets for export and one of the campers was eaten by a bear!
Oh, my God! (sobs harder)
Bart:
Well, actually the bear just ate his hat.
Was it a nice hat?
Bart:
Oh, yeah.
Oh, my God! (sobs even harder than before) Well, I'm gonna make it all up to you. I'm gonna show you kids the time of your life. Get ready for two weeks at the happiest place on Earth...TIJUANA!!!!
Campers:
YAAAAAAAAAAY!!
Crooner:
South of the border - down Mexico way
That's where I fell in love, when stars above came out to play
And now as I wonder - my thoughts ever stray
South of the border - down Mexico way
She was a picture - in old Spanish lace
And just for a tender while, I kissed a smile - upon her face
For it was fiesta - and we were so gay
South of the border - Mexico way
Those mission bells told me that I must not stray
South of the border - down Mexico way
(Mariachi version of the Gracie Films logo plays)
Mexicans:
¡Olé!
Video