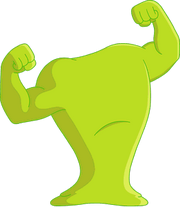 The Space Marshmallow is an intergalactic alien that came to Springfield in a meteor from outer space.
History
It was inside a meteor that crashed in the Simpson's backyard. Homer started poking it with a stick and, thinking it was a "space marshmallow", he tried to eat it. Although the Blob attempted to get out of Homer's mouth, he ended up swallowing it. Causing it and Homer to become Gelatinous Homer And he began devouring everything and everyone in sight.
Behind the Laughter
The Blob was a monster in the film of the same name.
Appearances
Gallery
Community content is available under
CC-BY-SA
unless otherwise noted.