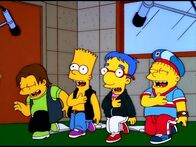 Special Girl is a song sung by a boy band called Party Posse consisting of Bart, Nelson, Ralph and Milhouse in the episode New Kids on the Blecch. At first, their singing is mediocre, but thanks to some technology from NASA L.T. Smash acquired, their singing improves.
Lyrics
Bart, Nelson, Ralph, and Milhouse:
Party Posse, we rule the Earth,
The greatest band since music's birth.
L.T. Smash:
Hmm, thank you, NASA.
(Smash turns on the machine and their voices become more adult.)
Milhouse:
We love to sweat, and we love to sing...
Nelson:
We're really funky but not threatening,ing ing ing
Ralph:
We're the best band in the world.
Bart:
But we give it all up for that special girl.
Party Posse:
You're my special girl!
Nelson:
Special girl
Party Posse:
You're my special girl
Nelson:
Only you!
Community content is available under
CC-BY-SA
unless otherwise noted.