The title of this article is conjectural. Though the topic is found within The Simpsons universe, a proper name is not available.
The Squashed Bart couch gag is the first couch gag of Season 1. It is also the first couch gag ever used in The Simpsons.
Plot
The Simpsons sit on the couch, but Bart gets squashed and shot into the air. He reappears six seconds later falling in front of the television (in FXX airings of Bart the Genius only the thud is heard, Bart falling or the TV shaking cannot be seen)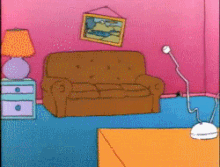 Character Appearances
Behind the Laughter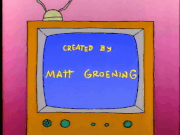 This is the first couch gag to continue into the shot of the TV. The only other couch gags to do the same thing are ones for
Season 26
's
The Wreck of the Relationship
(the
Itchy & Scratchy couch gag
) and
Season 28
's
Dad Behavior
(The
Bart Gets the Remote couch gag
; unless you count
Season 23
's
Simpson Biscuits couch gag
as continuing into the TV shot with the decorations, and
Season 25
's
White Christmas Blues
, for the same reason).
Appearances
Community content is available under
CC-BY-SA
unless otherwise noted.