Wiki Targeted (Entertainment)
Play Sound
Stanley Martin Lieber, better known by his pen name Stan Lee, was an American comic book writer and creator of Marvel Comics.
On The Simpsons, he comes to The Android's Dungeon & Baseball Card Shop for a visit. He appears to be going crazy, forcing a The Thing action figure into a Batmobile and believing himself to be The Incredible Hulk. The latter seems to be true since off screen Comic Book Guy remarks, "You almost had it there."
Behind the Laughter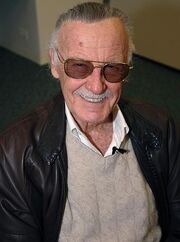 Stan Lee was an American comic book writer, editor, actor, producer, publisher, television personality, and the former president and chairman of Marvel Comics, where he helped constitute their modern comics universe, by co-creating characters such as the Incredible Hulk, Thor, Iron Man (as well as the Avengers, the hero team these characters comprise), Spider-Man, and the X-Men. When he appeared in The Simpsons, he named himself "the king of the cameos" in a parody to the fact that he appeared in all his Marvel movies and animated series.
On November 12, 2018, Stan Lee died of Pneumonia in Los Angeles, California at the age of 95. At the time of his death, he had already completed filming cameos in the next five Marvel movies.
Appearances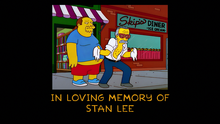 External links