We're Getting Mutants in the MCU - The Loop
Play Sound

Sweden is a constitutional monarchy in Northern Europe.
History
Lisa tells Skinner students actually grade teachers on their performance.[1]
Bart sent a prank phone call to a bar in Sweden after finding actor Denis Leary's cell phone.[2]
A Swedish team entered the 2010 Winter Olympics for the curling event and came second place, getting the silver medal. [3]
Lisa takes the family to Swedish consulate to protect Homer from getting arrested again since downloading movies is not illegal in Sweden. [4]
Government
The country is a constitutional monarchy, governed by King Carl XVI Gustaf and Queen Silvia, the heiress apparent is Crown Princess Victoria, who will one day be the third queen regnant and her daughter Estelle will someday be Queen regnant also, being the fourth to do so. It is a cognatic primogeniture (eldest child regardless of gender). Carl Philip, Duke of Värmland, younger brother of Victoria was Crown Prince until 1980, when the change of succession was made.
National anthem
Du gamla, Du fria,
Du fjällhöga nord
Du tysta, Du glädjerika sköna!
Jag hälsar Dig, vänaste land uppå jord,
Din sol, Din himmel,
Dina ändger gröna!
Din sol, Din himmel,
Dina ändger gröna!
Du tronar på minnen från fornstora da'r
Då ärat Ditt namn flög över jorden
Jag vet att Du är
och Du blir vad Du var
Ja, jag vill leva,
jag vill dö i Norden.
Ja, jag vill leva,
jag vill dö i Norden.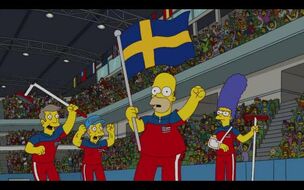 Non-Canon Appearances
The Nobel Prizes was awarded here and Professor Frink won one of the awards but the ceremony was ruined after his father started to kill everyone. In addition, for unknown reasons, the female Crossing Guards in the country were, with the exception of gloves and a commissar's cap, completely nude.[5]
Bongo Comics
When the King of Sweden dies, the new heir to the throne is discovered to be Smithers.[6]
Appearances
Citations