Doctor Strange in The Multiverse o Madness - The Loop
Play Sound
"A gang. That's the answer!"
"Take My Wife, Sleaze" is the eighth episode of Season 11.
Synopsis
Homer and Marge win a motorcycle in a dance contest, so Homer decides to form his own motorcycle gang called "Hell's Satans". But there's just one problem - the name is already taken, and when the two gangs encounter one another, trouble ensues.
Full Story
One evening, while the Simpsons are watching a Guinness Book of World Records special on TV, an ad comes on advertising a new 50's-themed restaurant named "Greaser's Cafe". Bart and Lisa want to go, and Homer agrees to take the whole family... next month.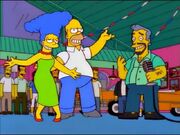 A month later, at the restaurant, owner, Wolfguy Jack holds a dance competition where the prize is a vintage 1955 Harley-Davidson motorcycle. Homer and Marge enter, and their crazy dance moves score them an easy victory, allowing them to take home the vintage bike.
Homer initially doesn't know how to ride a motorcycle so Bart teaches him. Homer quickly becomes obsessed with the bike, riding it everywhere (even in church) and grows enamored with 50's-era biker culture. After watching a James Dean-type movie one day, he decides to form his own motorbike gang with Moe, Lenny, Carl and Ned (though only Moe has an actual motorcycle - Carl uses a Vespa, Ned a bicycle, and Lenny uses a riding mower). To Ned's chagrin, the gang proclaim themselves "the Hell's Satans" and cause havoc around Springfield, but are eventually celebrated with a profile in a biker magazine. Unfortunately, this angers another motorcycle gang — also named the Hell's Satans — led by a brutish man named Meathook, who come to 742 Evergreen Terrace and take over the Simpson house.
As the weeks progress, the gang of unruly biker-squatters make a pigsty of the home, but the Simpsons seem helpless to stop them. Marge even starts to become helpful, cooking meals for the bikers and doing their laundry. When they eventually leave, they take Marge with them — unbeknownst to Homer and the kids. Homer searches everywhere for his missing wife and ends up at Poppa Wheelie's, a biker bar, where NRBQ were playing. He gets thrown out and beaten three times but learns nothing.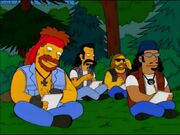 Meanwhile, Marge finds out that she's perfectly safe with the Hell's Satans, since none of the gang members find her sexually desirable at all ("well... good, I guess..." says a somewhat dejected Marge). She continues to civilize the men, teaching them that there's more to life than violence and even begins to help them write resumes to get real jobs. Just when progress is being made, however, Homer storms their camp and demands to fight Meathook for Marge. The two men have a ridiculous-looking duel in which they swordfight using their bikes, and Homer eventually wins.
On their way back to Springfield, Homer calls in to Poppa Wheelies to "Take care of some unfinished business", which entails him running in to the bar, running out with a keg of Duff and shouting for Marge to hit the gas as they flee a swarm of disgruntled bikers.
Behind the Laughter
Production
This episode and Hungry, Hungry Homer were originally produced as one episode in which Homer wins a motorcycle and goes on a hunger strike when a law is passed that requires motorcyclists to wear helmets.
Citations