This is a talk page, where you can send messages and comments about the page for Frankie the Squealer.

Please sign and date your posts using four tildes (~~~~).
New discussion topics go at the bottom of the page.
New to Simpsons Wiki? Welcome!
This is not a forum for general discussion about the article's subject. Only talk about edits to the article and how to improve it. Any other posts may be removed.

Some Talk page guidelines

Be polite
Assume good faith
No personal attacks
Don't bite the newcomers!
Undiscussed reverts
I was editing the article when I replaced the bland and boring image in the character template, with a much better one. Unfortunately, it was displayed way too big -- so I went looking for an example of the character template, in use, to see how to size the image.
When I got back, a minute later, I saw that user Tina.g.sherwin had reverted my edit -- without typing anything in the edit summary.
I assumed she'd reverted my edit because the image had been displayed so big. So I went ahead and restored the image I'd used, sizing it. I wrote, "Much better image, sized" in the edit summary.
She reverted my edit eight minutes later. The image she's insisting on, looks a lot more like an image at deviantART than an actual The Simpsons, Frankie the Squealer, image.
(image removed)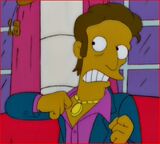 The deviant image on the left has small pupils, a two-dimensional pendant, a green jacket and lighter skin --  all like the deviantART image. The actual image on the right has larger pupils, a three-dimensional pendant, a blue jacket, and darker skin.
I suspect the deviant image came from deviantART, maybe from the very same artist that created the image I've referred to. -- Fit Tony (talk) 17:28, November 11, 2014 (UTC)
I tried to discuss this with the other editor, on her talk page, but her replies were unresponsive. I asked the administrators to have a look. One replied, "I say include an image from an episode as opposed to that, because this looks too much like an MS Paint image than an official one."
The image I initially switched to, in the template, is from an episode. It's 2 against 1. I have been unable to engage the other editor in an earnest discussion. There is consensus for my version.
I didn't see the edits being reverted earlier and I didn't answer the message you left for me, but I think this could be due to a misconception that we needed to keep the "grabpic", which is what you were describing. Basically, it's people trying to draw a character to make it look like a promotional image, but because they are using a not very powerful graphics program like MS Paint, it doesn't look very good and is obvious.
We do want screenshots whenever possible. I wound up finding a fairly good picture from one of the most recent episodes, so I used that to replace the "grabpic" on a few pages. I will be deleting this one after I make sure all pages that link to it are cleaned up. —RRabbit42 (leave a message) 07:12, December 30, 2014 (UTC)
This was not due to a misconception that we needed to keep the grabpic, Roger. Tina.g.sherwin identified her reason, the one time she wrote something in her edit summary. When I asked her if she would direct me to the policy that requires that we use character images with transparent backgrounds, she was unresponsive. -- Fit Tony (talk) 21:49, December 31, 2014 (UTC)
Community content is available under
CC-BY-SA
unless otherwise noted.