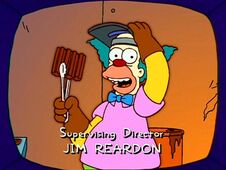 Tastes Like Liberty is a jingle for Krusty Burger's Ribwich in the episode "I'm Spelling as Fast as I Can". It is a parody of the song Like a Rock by Bob Seger, which began using in Chevy Truck commercials in 1991, and continued until 2004. The music was written by Alf Clausen and the lyrics by Kevin Curran. It is the fourteenth track on the album The Simpsons: Testify.
Lyrics
Apu:
Hello, Springfield, come to my back-to-school parking lot blowout.
School's starting, Bart! Aren't you excited? This year, you'll learn about local history!
Apu:
We've got first-rate school supplies at third world prices at the Kwik-E-Mart, where we believe in America. Please, don't beat me up anymore.
Bad news: Ray Romano has sued to prevent the showing of the movie. Watch this commercial for Krusty Burger while I appeal this temporary injunction.
Singer:
Like a rib,
It tastes like liberty,
Like a rib
With a bun of sesame.
Announcer:
We start with authentic letter-graded meat and process the hell out of it 'til it's good enough for Krusty.
Try my new Krusty Ribwich! Mmm, I don't mind the taste!
Community content is available under
CC-BY-SA
unless otherwise noted.