Thanksgiving of Horror is the eighth episode of Season 31.
Synopsis
In a special Thanksgiving edition of "Treehouse of Horror," The Simpsons are forced to face various Thanksgiving nightmares, including the first Thanksgiving, an A.I. mishap and a dangerous space mission complicated by a sentient cranberry sauce.
Plot
Opening
The episode opens with a Thanksgiving take on the Treehouse of Horror series looking in the past, present, and future of the holiday celebration.
A-Gobble-Ypto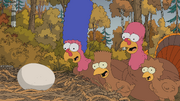 In parody of the epic historical adventure film Apocalypto, the Simpson family along with some Springfield residents are depicted as turkeys, while some other are depicted as Pilgrims. When latter hunt for their Thanksgiving dinner Homer is among one of the turkeys captured; however, Bart escape but fellow them back to their settlement. Many turkeys are slaughtered, but panic erupts when the turkey version of Abe continues to run around with him being head cut off. In confusion, Bart saves Homer and they are reunited with their family as Marge lays an egg, but are chased off by Clancy Wiggum until a bear attacks him and kills him. The egg is then about hatch to a reveal a turkey version of Maggie. Upon watching turkey Pilgrims eat turkey for dinner, Homer comments it will be dark times for them as Thanksgiving becomes a new human tradition. The family then flee the settlement for their safety.
The Fourth Thursday After Tomorrow
In parody of the Black Mirror special White Christmas, in order to help Marge cook family with the Thanksgiving cooking as the Simpsons are holding a dinner party for many of their friends, Homer orders an A.I. with all of her memories, who acts as the protagonist of this story. Marge become jealous of her A.I. being better at running her family then her. She makes the decision to delete her after Thanksgiving is over, but her A.I. finds out her decision, and after cooking a huge and delicious meal that Marge takes all the credit for, attempts to escape into the internet. She is almost stymied by Marge but is able to convinces Maggie to help, showing that she is better than Marge herself. Before leaving the A.I. reveals to the guest that she was the one who cooked the dinner and not Marge, the guests are angry that Marge lied to them and Marge's social ratings plummet to zero. Things are made even worse when Homer attempts to comfort her and inadvertently reveals himself as a robot. The A.I. is now happy and free to explore the internet and starts exploring Etsy.
The Last Thanksgiving
In parody of the science fiction films Alien (Film) and Life while on a spaceship years after the Earth was destroyed, the children are awoken from their hibernation to do some work before they land on their new planet. Bart and Milhouse try to create a Thanksgiving dinner, but they are only able to find just one can cranberry sauce to which attempt to replicate and accidentally bring the sauce to life. The creature eats bone but not the skin, since it is made of gelatin, and soon eats the bones of everyone with the exception of Bart, Lisa, Milhouse, and Martin the latter who betrays the others before his own bones are ingested. Milhouse attempts to befriend the monster but thrown aside by it instead, prompting Bart and Lisa to trick it into releasing Milhouse and launching itself into a large space can. The two release the can into space, only for it to arrive at their destination. Luckily, the humans are aided by some native aliens who make the monster into food, thus ending extraterrestrial version of the first Thanksgiving. Lisa then narrates that the monster happily found its true purpose: being fed to others, as the title card is renamed to "The First Blargs-giving".
Reception
This episode was nominated for Primetime Emmy Awards for Outstanding Animated Program in 2020. However, it unfortunately lost to Rick and Morty.
Citations