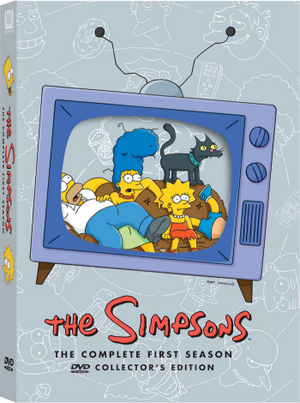 The Complete First Season is the home video release of Season 1 of The Simpsons. It was released on DVD on September 25, 2001 in Region 1, and on September 24, 2001 in Region 2,3 and 4, and contains all thirteen episodes from the first season, remastered in Dolby Digital 5.1. Although the video quality is generally of a high standard, it is from a broadcast tape and not an original film print, as the show was edited on video. The first season DVD quickly became the best-selling television DVD in history, although it was later overtaken by the first season of Chappelle's Show.
The outer packaging is of the family sitting on the couch with Santa's Little Helper and Snowball II sitting upright with them (used a couple of times in Season 1), whereas the inner packaging and the discs feature the family spinning inside a vortex. The spine features Bart and Lisa on the outer casing, and Homer, Marge and Maggie on the inner casing.
Disc Features
Disc 1
Disc 2
Disc 3
Special Features
Easter Eggs
Gallery
Episode Cuts
Notes
Video
Community content is available under
CC-BY-SA
unless otherwise noted.