The Sixteenth Season is the title of the home video release of Season 16 of The Simpsons. It was released on December 3rd, 2013 for Region 1. It was released on December 2nd, 2013 for Region 2. It was released on December 11th, 2013 for Region 4. It was released on DVD and Blu-ray formats.
The box set comes in two varieties: a limited edition Prof. Frink head-shaped box and a standard rectangular box with artwork prominently featuring Professor Frink
Episodes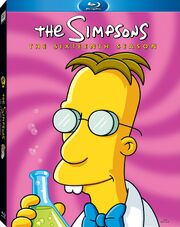 Disc 1
Disc 2
Disc 3
Disc 4
Special Features
The box set has commentary, commercials and more. They also released the Blu-ray release, that has included classic commercials from DVD release of the previous seasons from Seasons 1 to 12 in 1080p HD. It was released with a lot more old and new commercials including home video, video games and more.
Commentary On All 21 Episodes
Greetings, Junior Scienteers! - An Introduction From Matt Groening
Deleted Scenes With Optional Introduction & Commentary
Live! It's The Simpsons - "Thank God It's Doomsday" Live Table Read
Bonus Episode - "Holidays Of Future Passed"
Multi-Angle Animation Showcase - "Future Drama"
Special Language Feature - "Pranksta Rap"
Original Sketches
Living In The Moment
Easter Eggs
By highlighting the blue sticky note on the tv you can access these deleted scenes:
By highlighting the paper on the right side of the TV you can access these deleted scenes: