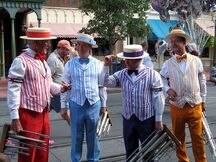 The Dapper Dans are a barbershop quartet that can be seen singing down the streets of Main Street, U.S.A. in Disneyland in Anaheim, California and the Magic Kingdom at Walt Disney World Resort in Lake Buena Vista, Florida. They are official members of the Barbershop Harmony Society (BHS, formerly the Society for the Preservation and Encouragement of Barber Shop Quartet Singing in America, Inc. or SPEBSQA).
It was the Disneyland incarnation of the Dans who provided the singing voices for the Be Sharps in the episode Homer's Barbershop Quartet. They consisted of Jim Campbell (bass, singing for Seymour Skinner), Shelby Grimm (lead tenor, singing for Chief Wiggum and Barney Gumble), Mike Economou (tenor, singing for Apu), and Dan Jordan (baritone, singing for Homer Simpson). Though their singing was mixed with regular voice actors singing. They also helped co-write the song Baby on Board.
External links
Community content is available under
CC-BY-SA
unless otherwise noted.