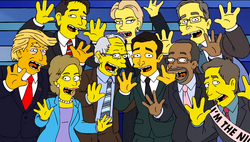 The Debateful Eight is a short released on Youtube which parodies the 2016 Presidential Debate.
Plot
Marge wakes up after a nightmare about the candidates accusing each other at the Debate. Homer tells Bart, Lisa and Maggie to go sleep at Flanders' House and conforts Marge, suggesting her to dream about a world where the candidates get along. She then dreams about the candidates dancing to Marvin Gaye's "How Sweet it Is", but soon after, the candidates start fighting again. Homer tries to confort Marge again, but she goes back to sleep, claiming that she wants to see who will win.
Video
Trivia
Community content is available under
CC-BY-SA
unless otherwise noted.