The title of this article is conjectural. Though the topic is found within The Simpsons universe, a proper name is not available.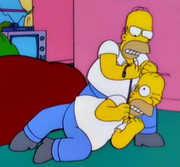 The Homer Impostor was hired to replace Homer while Homer was on a mysterious island. Although he has a thick German accent and has to shave his head due to not suffering from baldness, the Simpson family accepted him as the real Homer.
There was a brief moment of suspicion, when Bart commented that something was really different about him lately however, when the quick-thinking impostor replied, (in Germanic syntax) "ah, ja... I am new tie veering.." his cover was secure.
After the real Homer returns from the island by stealing a boat that Number 6 made, the two Homers fight, ending with the real Homer winning after kicking the impostor in the groin.
It is unknown what happens to the Homer Impostor afterwards.
Appearances
Community content is available under
CC-BY-SA
unless otherwise noted.