Trivia
Restaurants spotted or mentioned after the family leaves church: Griddler on the Roof, Thank God It's Fried Eggs, Luftwaffle's, Bodacious Frittatas, Buffet the Hunger Slayer, and Denny's.
When Homer forgets his lines he sings, "Uh-oh Spaghetti-os." This was the catch phrase of the fictional police officer Homer Simpson in the season 10 episode "Homer to the Max".
This is the second episode where Homer sings in a powerful voice different from his own, which quickly transforms into his usual voice. The first was "Homer's Triple Bypass".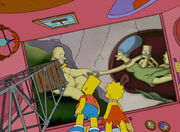 Cultural references
The episode title is a reference to the Rossini opera The Barber of Seville.
Lisa claims that tenor Andrea Bocelli recorded an entire song on his back. Bocelli apparently did record one track on his Amore album on his back, and demonstrated this technique on an episode of American Idol.
The Springfield Opera House is shaped like the Sydney Opera House.
The scene of Lenny and Carl watching Homer's opera performance from the rafters is a reference to a similar scene in Citizen Kane.
Homer's entourage, Lenny and Carl, is a parody of the HBO series Entourage. The music when Lenny (who dresses like Turtle) and Carl are in the limousine is the show's theme song.
The orchestral sequence featured in the Cobra scene is the overture of Mozart's opera, Don Giovanni.
When Carl and Lenny are sent away from the table at the Guilded Truffle, Carl mutters "Yoko", at Marge. It is a reference to Yoko "breaking up The Beatles", but in this case Marge is breaking up the entourage.
Homer paints a parody of Michelangelo's The Creation of Adam on the ceiling.
The line about the chandelier being pre-crashed is a reference to a famous scene from "The Phantom of the Opera."
Homer sings the final scene from "La bohème" by Giacomo Puccini.
Goofs
The police said that they have already "pre-crashed" the chandelier. However, after all the snipers have been shot, the chandelier fell on Julia. However, this could merely be a joke, suggesting the police's incompetence by missing a second chandelier or putting another one up after the first one was "pre-crashed".
When Marge climbs into the funeral, she is wearing the wrong dress and shoes. When she comes out to shout "I'm not cooking" she is wearing the correct dress and shoes.
When Julia got up after all the snipers failed to shoot, they shoot her, but there are no holes, until the scene where she is unconscious. And you can see only one hole.
Community content is available under
CC-BY-SA
unless otherwise noted.