| | | |
| --- | --- | --- |
| | The Man in the Blue Flannel Pants | |
Cultural references
Trivia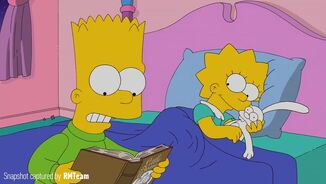 Mr. Burns claims to have been a survivor of the Titanic, wich would make him, at least 99 years old.
This episode is similar to Simpson and Delilah where Homer gets promoted and befriends the man in his office.
Goofs
In a scene early on in the episode Krusty is talking to his merchandising executives where part of his tuxedo is green, but in his next scene the green has turned to black.
In the scene where Homer goes to Moe's and Moe is asleep on the bar ledge, Homer enters the bar and the bar ledge longer than it should be. In a later scene, the ledge returns to normal.
Between Homer coming into the tavern and sitting down, Moe moves along the bar and several barstools disappear.