m

 

(23 intermediate revisions by 4 users not shown)
Line 1:
Line 1:
−

{{Tab|Ref|episode=The Man in the Blue Flannel Pants}}{{PrevNext|Ref|The Book Job|The Ten-Per-Cent Solution}}

+

{{Tab|Ref|episode=The Man in the Blue Flannel Pants}}

 
+

{{PrevNext|Ref|The Book Job|The Ten-Per-Cent Solution}}

 
 
−

==Cultural References==

+

==Cultural ==

 

* The title is a reference to the novel, ''[[wikipedia:The Man in the Gray Flannel Suit|The Man in the Gray Flannel Suit]]''.

 

* The title is a reference to the novel, ''[[wikipedia:The Man in the Gray Flannel Suit|The Man in the Gray Flannel Suit]]''.

 

* Absolut Krusty is a parody of [[Wikipedia:Absolut Vodka|Absolut Vodka]].

 

* Absolut Krusty is a parody of [[Wikipedia:Absolut Vodka|Absolut Vodka]].

−

* [[Mr. Burns]] and Homer sing "[[Wikipedia:Come Josephine in My Flying Machine|Come Josephine in My Flying Machine]]."

+

* [[Mr. Burns]] and Homer sing "[[Wikipedia:Come Josephine in My Flying Machine|Come Josephine in My Flying Machine]]."

 

* [[Marge Simpson|Marge]] almost getting seduced by Robert Marlow is a parody of ''[[Wikipedia:Mad Men|Mad Men]]''. Robert Marlow borrows traits from Roger Sterling from ''Mad Men'', who is played by guest star John Slattery.

 

* [[Marge Simpson|Marge]] almost getting seduced by Robert Marlow is a parody of ''[[Wikipedia:Mad Men|Mad Men]]''. Robert Marlow borrows traits from Roger Sterling from ''Mad Men'', who is played by guest star John Slattery.

 

* [[Bart Simpson|Bart]] reads ''Little Women'', a [[Wikipedia:Little Women|real life book]].

 

* [[Bart Simpson|Bart]] reads ''Little Women'', a [[Wikipedia:Little Women|real life book]].

 

* During the party, Homer's witty mark is a reference to [[Wikipedia:Oscar Wilde|Oscar Wilde]].

 

* During the party, Homer's witty mark is a reference to [[Wikipedia:Oscar Wilde|Oscar Wilde]].

 
+

* The meeting with [[Joe Quimby|Mayor Quimby]] is held in a restaurant named "The loin king", an obvious pun on the movie "{{W|The Lion King}}".

 
 
 

==Trivia==

 

==Trivia==

 

[[File:14236155.jpg|thumb|326px|Lisa sleeping with Bongo]]

 

[[File:14236155.jpg|thumb|326px|Lisa sleeping with Bongo]]

 

* This is the third episode in a row not to have an [[Opening Sequence|opening sequence]] although this episode had a [[List of title screen gags|title screen gag]].

 

* This is the third episode in a row not to have an [[Opening Sequence|opening sequence]] although this episode had a [[List of title screen gags|title screen gag]].

−

* [[Homer Simpson|Homer]] last experienced luck through pain in the episode, [[Million Dollar Maybe]].

+

* [[Homer Simpson|Homer]] experienced luck through pain in the episode, [[Million Dollar Maybe]].

−

* The new sector Homer goes to work at, 22F, may be a reference to the last three digits of the previous episode's production code reversed (NAB'''F22''').

+

* The new sector Homer goes to work at, 22F, may be a reference to the last three digits of the previous episode's production code reversed (NAB'''F22''').

−

* Lisa's toy is Bongo from [[Matt Groening]]'s comic strip ''[[Life in Hell]]''.

+

* Lisa's toy is Bongo from [[Matt Groening]]'s comic strip ''[[Life in Hell]]''.

 
+
 
+

* [[Charles Montgomery Burns|Mr. Burns]] claims to have been a survivor of the Titanic, which would make him at least 99 years old.

 
+

* This episode is similar to "[[Simpson and Delilah]]", where Homer gets promoted and befriends the man in his office.

 
 
 

==Goofs==

 

==Goofs==

 

*In a scene early on in the episode Krusty is talking to his merchandising executives where part of his tuxedo is green, but in his next scene the green has turned to black.

 

*In a scene early on in the episode Krusty is talking to his merchandising executives where part of his tuxedo is green, but in his next scene the green has turned to black.

−

*In the scene where Homer goes to [[Moe's Tavern|Moe's]] and Moe is asleep on the bar ledge, Homer enters the bar and the bar ledge longer than it should be. In a later scene, the ledge returns to normal.

+

*In the scene where Homer goes to [[Moe's Tavern|Moe's]] and Moe is asleep on the bar ledge, Homer enters the bar and the bar ledge longer than it should be. a later scene, the ledge returns to normal.

−

*Between Homer coming into the tavern and sitting down, Moe moves along the bar and several barstools disappear.

+

*Between Homer coming into the tavern and sitting down, Moe moves along the bar and several disappear.

 
+

*When Homer was falling down the waterfall, the part of his body that was underwater disappears.

 
+

*Bart tells Lisa he's a bad reader, despite that he reads comic books.

 
 
 

{{Season|23|Ref}}

 

{{Season|23|Ref}}

 
+

[[es:The Man In The Blue Flannel Pants/Curiosidades]]

 

[[Category:Trivia]]

 

[[Category:Trivia]]

 
+

[[Category:Goofs]]

 

[[Category:Cultural references]]

 

[[Category:Cultural references]]
---
Latest revision as of 01:16, 25 April 2020
| | | |
| --- | --- | --- |
| | The Man in the Blue Flannel Pants | |
Cultural references
Trivia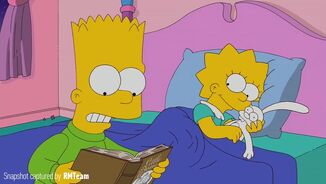 Mr. Burns claims to have been a survivor of the Titanic, which would make him at least 99 years old.
This episode is similar to "Simpson and Delilah", where Homer gets promoted and befriends the man in his office.
Goofs
In a scene early on in the episode Krusty is talking to his merchandising executives where part of his tuxedo is green, but in his next scene the green has turned to black.
In the scene where Homer goes to Moe's and Moe is asleep on the bar ledge, Homer enters the bar and the bar ledge longer than it should be. But in a later scene, the ledge returns to normal.
Between Homer coming into the tavern and sitting down, Moe moves along the bar and several bar stools disappear.
When Homer was falling down the waterfall, the part of his body that was underwater disappears.
Bart tells Lisa he's a bad reader, despite that he reads comic books.