Doctor Strange in The Multiverse o Madness - The Loop
Play Sound
"Alrighty then. Just because rich doesn't mean that we don't have...(starts to cry.) Oh, I can't even finish. I want to be rich!"
"The Mansion Family" is the twelfth episode of Season 11.
Synopsis
After receiving an award for oldest citizen of Springfield, Mr. Burns checks into the Mayo Clinic, leaving The Simpsons in charge of his luxurious mansion.
Full Story
It all starts at the Springfield Pride Awards (hosted by Britney Spears and Kent Brockman), where an award is announced for Springfield's oldest man. The award goes to Cornelius Chapman, who dies from a heart attack on stage (after Britney kisses him). The title then passes to Mr. Burns.
The dubious honor prompts Burns to get a checkup, and Smithers takes Mr. Burns to the Mayo Clinic in Minnesota. He chooses Homer to housesit the mansion, figuring the employee is "due for a good performance." Homer lives like a king, but doesn't like to be told that this situation is temporary. Homer turns Burns' yacht (the "Gone Fission") into Party Central, taking his pals on a voyage into international waters, "the land that law forgot."
Meanwhile, doctors find Burns has "everything" - every single disease known to medicine, including several unique to him - but since he has everything all the diseases cancel each other out (The doctor tells him it is like a dozen people trying to go through a door all at once). Mr. Burns concludes that he is indestructible.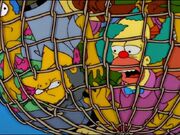 Homer's party boat is boarded by Chinese pirates who take the ship, rob the crew put them in a net and toss them overboard. They make it back to the mansion, because the people on the bottom of the netkeep the people up on the top before returning its ownership to Burns. Back at home, Homer bemoans his lack of wealth: During the credits he wails about how 'all those people' are much richer than him (although he feels the voice actors "aren't as rich as they should be," except Richard K. Chung, who Homer says is "poor").
Citations