Jurassic World: Dominion Dominates Fandom Wikis - The Loop
Play Sound
The Ned-liest Catch is the twenty-second and final episode of Season 22.
Synopsis
Edna Krabappel is placed in the Teacher Holding Facility for mistreating Bart. When Bart helps Edna escape, Ned Flanders saves Edna from a falling ladder, and they begin dating.
Full Story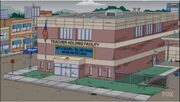 At a girls basketball rally celebrating their first basket in a triple overtime game against Shelbyville, Bart causes trouble for the school by pulling a prank in which he retracts the gym bleachers, causing everyone sitting on them to fall down at once. After the prank, Edna is irritated at Bart, so she grabs and slaps him twice in front of the school. Edna soon has to face a meeting with she is confronted by Seymour Skinner, Superintendent Chalmers, Homer, and Marge in Skinner's office. Edna is suspended with payment, but she must go to a holding area until her hearing. After guilt gets the best of him, Bart goes to the building to free Edna. However, during the escape, Edna almost falls off the ladder but Ned Flanders happens to walk by and catches her. Edna begins to talk about the Simpsons with Ned, and the couple soon starts to date. This causes much grief for Bart, as his teacher now constantly visits the house next door, making it hard for him to get away with slacking. Edna then gives Flanders the courage to ask for his household objects back from Homer, emptying the Simpsons' garage. Homer then tries to break up Nedna, but in talking realizes that he wants Ned to be happy. He then accidentally goads the guys at Moe's into talking about their numerous sexual exploits with Edna, causing Ned to question the relationship. Homer convinces Flanders to go back to Edna, and she agrees to be with him on the condition that her past never gets in their way again. Ned comments on how that will have to be chosen by a "higher power". Thus, the episode finishes on a cliffhanger, with Homer and Marge asking the fans to choose. In Season 23, it was confirmed Nedna (Ned and Edna) were green lit to be a couple, and by the end of the season, married. The relationship was announced at the end of the Season 23 premiere.
Citations