Jurassic World: Dominion Dominates Fandom Wikis - The Loop
Play Sound
| | | |
| --- | --- | --- |
| | The President Wore Pearls | |
"Sneeze, puke, burp, fart! We want music, gym, and art!"
―Springfield Elementary School student chant
The President Wore Pearls is the third episode of Season 15 (originally going to be an episode for Season 14 in production order).
Synopsis
After a fundraiser goes bad, Martin resigns as student body president. Lisa is later elected new president and Principal Skinner and the teachers make her sign forms that eliminate certain classes from school due to a low budget.
Full Story
Springfield Elementary holds a casino night as a fundraiser, the brainchild of student body president Martin Prince. Homer wins big, but when Martin points out that his winnings can only be redeemed for prizes and not real money, the angry casino patrons riot. After the chaos has cleared out, Principal Skinner tells Martin he must resign as the president. An election for a new president is announced, and Lisa signs up. However, initially Nelson Muntz is favored to win solely on popularity, despite Lisa's good ideas. During a debate in the school auditorium, she sings a song (a spoof of "Don't Cry for Me Argentina") about how she will fight for student rights, winning them over.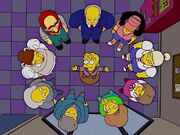 Lisa easily wins the election by singing her song, which makes the other students sensitive and respect and feel bad for Lisa more. Worried by her determination and popularity, the faculty discusses how to control her. Following Mrs. Krabappel that a woman's weakness is vanity, the school faculty tells Lisa that as President, she deserves a more glamorous look. Another song is sung (a spoof of "Rainbow High") as the teachers give Lisa a makeover into a Bananas Eva Perón Hates. She is initially resistant, but gives in since she reasons she'll still be able to fight for the kids. The students love her more than ever, but the faculty plan on using her to distract the kids from the fact that they are cutting music, gym, and art from the curriculum to save on the budget.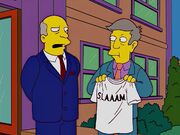 Skinner, Willie and Bart sing another song on different matters but in the same tune Skinner singing about how he cancelled lessons, Willie signing about his day and his problems and Bart singing about how Lisa was being a fool and being manipulated by Skinner. The next day Skinner unveils operation S.L.A.A.A.M (so long athletics, arts and music) even going so far as to have a T-shirt with this printed on it. All extra curricular had been cancelled and the other students blamed this on Lisa. Milhouse then says he was going to ask Lisa out to the dance to which Lisa replied she would have gone with him but says she doesn't feel like now. Milhouse then says he was going to tell Willie about this. The art room was taken away making Lisa and Bart break into another song. Realizing she had been used and was seduced by glamor, Lisa goes back to her regular spiky hair and plain red dress. After resigning as president, Lisa leads the students in a strike.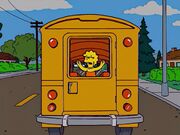 The students leave school in protest and Michael Moore (voicing himself) shows up to take their side. The police arrive at the school to handle the students, but Lisa wins over the police, as well. Several other labor unions, including goat milkers, newsroom cue card holders and theme park zombies join the strike. Groundskeeper Willie turns down Skinner's order to turn his hose on the students. Realizing there is no other way out of the crippling strike other than disposing of Lisa again, Skinner has her transferred to a school for the gifted to which Lisa sings another song on the bus (another spoof of "Don't Cry for Me Argentina"). When she arrives there, Homer shows up to explain that he is not driving 45 minutes just to take her to school each day. Homer and Lisa then object about what other dreams Lisa can have. A subtitle states that the elementary school cancels flu shots and sells loose cigarettes to pay for the restoration of music, art and gym. The subtitle also states that the producers of the show, based on the advice of their lawyers, never heard of a musical based on the life of Eva Perón.
Behind the Laughter
Songs
Reception
In 2007, Vanity Fair called "The President Wore Pearls" the tenth best episode of The Simpsons, the most recent episode on the list. John Orvted said, "It may seem ludicrous to include anything later than Season 8 in this list, but this one is brilliant. The musical numbers are astoundingly good, and Lisa's comeuppance is so well constructed it harkens back to the golden years of the show."
The episode was also nominated for an Emmy for Outstanding Music (by Alf Clausen) And Lyrics (by Dana Gould).
Citations