| | | |
| --- | --- | --- |
| | The President Wore Pearls | |
Cultural references
Although the subtitle at the end denys it, the episode is a parody of the Andrew Lloyd Webber-Tim Rice rock opera Evita. Many of five songs, which appear in this episode, are parodies of this musical. A poster, which Lisa uses in her campaign, resembles a poster from the musical.
The reason that they deny it being a parody at the end is because Webber dislikes having his works parodied.
Nelson's song as Lisa is led out of the auditorium is sung to the tune of "Iron Man" by Black Sabbath.
Lisa is sent to a school named The Magnet School for the Gifted and Troublesome Kids. The name is a parody of the school Xavier's School for Gifted Youngsters from the X-Men.
When an slot machine falls on Lenny, he said, "But I break just like a little girl." It refers to the song "Just Like a Woman" by Bob Dylan.
Martin as a student refers to Richard Nixon.
Geraldine Anne "Gerry" Ferraro was an American attorney and Democratic Party politician who served in the United States House of Representatives. In 1984, she was the first female vice presidential candidate representing a major American political party. She ran as Walter Mondale's running mate against Ronald Reagan and George H.W. Bush. They lost in a massive electoral and popular vote Landslide for Reagan who won 49 of the fifty states and 58.8% of the popular vote that year. The only state Mondale and Ferraro won that year was Minnesota (his home state and D.C.)
Goofs/Trivia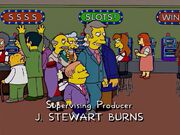 When the teachers are giving Lisa a make over, Lisa's new bag is on her shoulder from above, but not from the side and front. Her bag disappears from existence within a second.
When the camera pans over the student body, there are two Milhouses.
In the student casino, Sarah Wiggum has ginger hair.
When Lisa is singing, Wendell is seen next to Kearney, but when the camera pans over the student body Wendell is gone. After she finishes singing, Wendell is shown again. Maybe he went to the bathroom(the kid that replaces him is a seat filler lol).
Community content is available under
CC-BY-SA
unless otherwise noted.