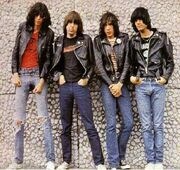 This article is about the real-life band The Ramones. For the characters, please see The Ramones (characters).
The Ramones were a punk-rock band, considered by many to be the fathers of punk-rock music. The then-lineup of Joey (Jeffrey Hyman), Johnny (John Cummings), Marky (Marc Bell) and C. J. Ramone (Christopher Ward) appeared as themselves in "Rosebud" where they sang the song "Happy Birthday, Mr. Burns". The band disbanded in 1996. Joey died aged 49 in 2001. Johnny died three years later in 2004 at the age of 55. Other late former members of the Ramones was original bassist Dee Dee Ramone (Douglas Colvin), whom C.J. had replaced in 1989, and original drummer Tommy Ramone (Thomas Erdelyi), whom Marky had replaced in 1978. Dee Dee died at the age of 50, in 2002. Tommy died at the age of 65, in 2014.
Appearances
Music heard in the show
External links
Community content is available under
CC-BY-SA
unless otherwise noted.