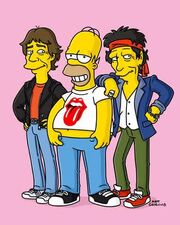 The Rolling Stones are Mick Jagger, Brian Jones, Keith Richards, Bill Wyman and Charlie Watts; with Mick Taylor and Ronnie Wood joining later. Mick and Keith appeared at The Rolling Stones Rock N' Roll Fantasy Camp, in the episode How I Spent My Strummer Vacation.
The episode features the famous Stones song "Start Me Up" (Keith plays the first three chords of the opening riff as he and Mick introduce themselves at the Camp), as well as the lesser-known "She's So Cold" (which Homer humorously misquotes) and "Rip This Joint", which plays over the credits as Jagger and Richards perform household chores.
Despite also being part of the Rolling Stones, Ronnie Wood and Charlie Watts have yet to make appearances.
Appearances

This article about a Simpsons character is a
stub
. You can help the
Simpsons Wiki
by
embiggening it
.
Community content is available under
CC-BY-SA
unless otherwise noted.