The Simpsons: Bart vs. the World is one of The Simpsons video games. It was released in December 1991 in the USA, but then released in the United Kingdom on October 22, 1992.
Plot
Bart wins an art contest hosted by Krusty the Clown, beating out superior paintings done by Martin Prince and Todd Flanders, and his award is a trip around the world, where he is to search for several one-of-a-kind Krusty brand merchandise items. In actuality, the contest was rigged by Mr. Burns. Burns and Smithers' ploy to have Bart's shoddy drawing win was to have the Simpson family go to dangerous parts of the world, where they will surely meet an untimely death and thus stop being a drain on his business. To this end, he calls his relatives around the world to get rid of them and help with his evil plan.
Levels
China

A Junk.
Skating down the Great Wall of China.
Boss stage: Fu Manchu Burns

The North Pole

Ice cave
Glaciers
Boss stage: Abominable Snow Burns

Egypt

The Great Pyramid
Valley of the Kings
The Great Sphinx
Boss stage: Ramses Burns

Hollywood

Pirate set
Horror Movie set
Animator's Desk set
Boss stage: Eric Von Burns
Gameplay
The game is a 2D side-scrolling action platformer, the intro for the game and some gameplay can be seen in the video below: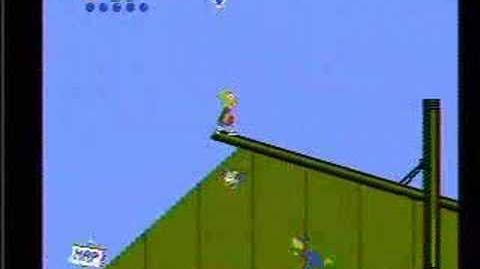 External links
Community content is available under
CC-BY-SA
unless otherwise noted.